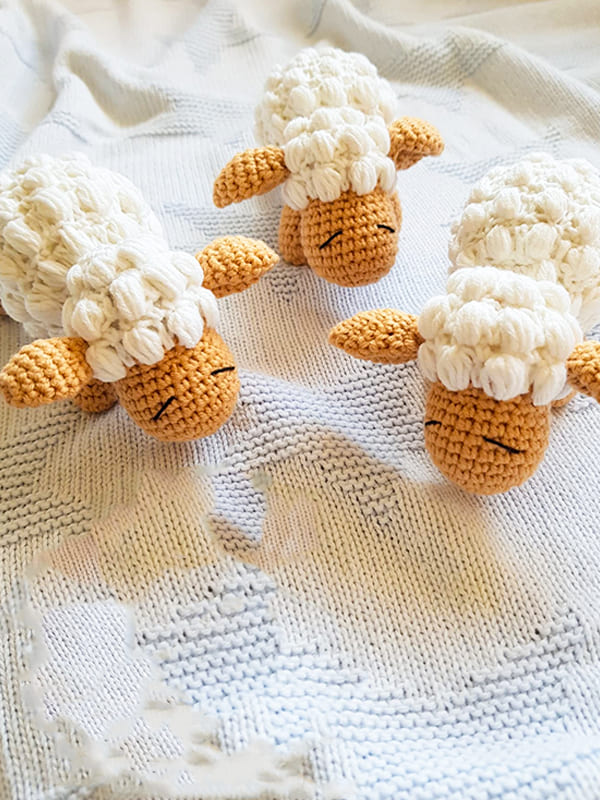 Hello to everyone who loves amigurumi,
Today I shared the amigurumi lamb pattern for you. When you complete the free amigurumi pattern, it will be a playmate for babies. It is very easy to make the amigurumi lamb pattern step by step. While making the popcorn stitches on the body part, do not forget to make 1 popcorn stitch after 1 single crochet. You can decorate your home or your baby's crib by crocheting the amigurumi lamb pattern in different colors. You can use the amigurumi pattern as a key chain. Thank you to the creator of the cute amigurumi pattern. Don't forget to add the free amigurumi patterns to your favorite list.
PDF Crochet Little Lamb Amigurumi Free Pattern
Designer: @cucushandmade
Materials
• Thread, white black, light brown
• Wool fiber for filling
• Scissors
Abbreviations
Sc– single crochet
Inc– increase
Dec– decrease
Popcorn– (Click the link to see how it's done)
Let's start crocheting the amigurumi lamb pattern, are you ready?
Body
Rnd 1. 6 sc into magic ring (6)
Rnd 2. 3 popcorn
Rnd 3. inc x 6 (12)
Rnd 4. 6 popcorn
Rnd 5. (1 sc, inc) x 6 (18)
Rnd 6. 9 popcorn
Rnd 7. (2 sc, inc) x 6 (24)
Rnd 8. 12 popcorn
Rnd 9. 24 sc
Rnd 10. 12 popcorn
Rnd 11. 24 sc
Rnd 12. 12 popcorn
Rnd 13. (2 sc, dec) x 6 (18)
Rnd 14. 9 popcorn
Rnd 15. (1 sc, dec) x 6 (12)
Rnd 16. 6 popcorn
We have completed the body part of the amigurumi lamb pattern. Now let's crochet the nose part and the head part 🙂
Nose and Head
Rnd 1. 6 sc into magic ring (6)
Rnd 2. inc x 6 (12)
Rnd 3. (1 sc, inc) x 6 (18)
Rnd 4. (2 sc, inc) x 6 (24)
Rnd 5-9. 24 sc
Rnd 10. (2 sc, dec) x 6 (18)
Rnd 11. 18 sc
We continue with the head;
Rnd 12. With white color 9 popcorn
Rnd 13. 18 sc
Rnd 14. 9 popcorn
Rnd 15. (1 sc, dec) x 6 (12)
Rnd 16. 6 popcorn
Rnd 17. We finish by reducing
Ears (x2)
Rnd 1. 6 sc into magic ring (6)
Rnd 2. inc x 6 (12)
Rnd 3. 12 sc
Rnd 4. (1 sc, inc) x 6 (18)
Rnd 5-6. 18 sc
Rnd 7. (1 sc, dec) x 6 (12)
Rnd 8. 12 sc
After crocheting the ears of the amigurumi lamb, let's crochet its legs 🙂
Legs (x4)
Rnd 1. 6 sc into magic ring (6)
Rnd 2. inc x 6 (12)
Rnd 3-8. 12 sc
We are finishing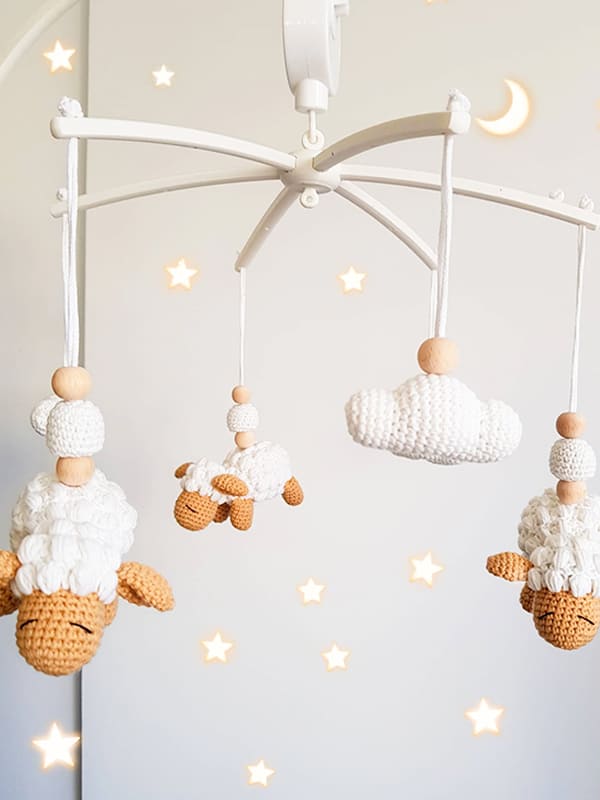 Congratulations, you have completed the amigurumi lamb pattern. 🙂
Download PDF Pattern