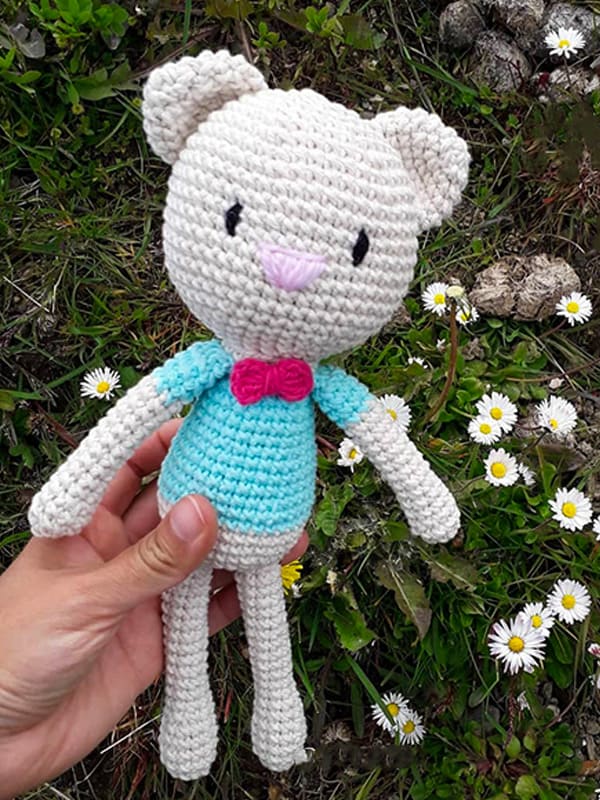 Hello amigurumi lovers,
Today I shared with you the cute amigurumi cat pattern. It is an amigurumi toy pattern that will be your best friend and that of your children. You can crochet the amigurumi cat pattern for the nursery. You can crochet the amigurumi toy to give to your loved ones. Thanks to the creator of the free pattern.
The cute cat amigurumi pattern is very easy to do step by step. We will crochet all the parts of the amigurumi toy separately for free. After the parts are completed, let's assemble them into the body part. You can make Amigurumi cat eyes using plastic accessories. You can make the bow tie of the Amigurumi pattern with old fabrics that you do not use. Don't forget to add the cute cat amigurumi pattern to your favorites list.
PDF Crochet Cute Cat Amigurumi Free Pattern
Designer
Instagram: @vivaelcrochet
Abbreviations
Sc – single crochet
Inc– increase
Dec– decrease
Materials
• Thread: white, light blue, red, black, pink
• Fiber for filling
• Pair of scissors
Let's start crocheting the amigurumi cat pattern 🙂
Ears
Rnd 1. 5 sc in magic ring (5)
Rnd 2. 5 inc (10)
Rnd 3. 1 sc – 1inc (15)
Rnd 4. 2 sc – 1 inc (20)
Rnd 5. 20 sc (20)
Rnd 6. 2 sc – 1 dec (15)
After completing the ears of the amigurumi cat, we crochet the part of the head. 🙂
Head
Rnd 1. 6 sc in magic ring (6)
Rnd 2. 6 inc (12)
Rnd 3. 1 sc – 1inc (18)
Rnd 4. 2 sc – 1 inc (24)
Rnd 5. 3 sc – 1 inc (30)
Rnd 6. 4 sc – 1 inc (36)
Rnd 7. 5 sc – 1 inc (42)
Rnd 8. 6 sc – 1 inc (48)
Rnd 9-16. 48 sc (48)
Rnd 17. 6 sc – 1 dec (42)
Rnd 18. 5 sc – 1 dec (36)
Rnd 19. 4 sc – 1 dec (30)
Rnd 20. 3 sc – 1 dec (24)
Rnd 21. 2 sc – 1 dec (18)
We are going to crochet the eyes and the body part of the amigurumi cat. 🙂
Eyes
Embroider the eyes between rows 11th and 13th separated by 8 stitches and in the middle embroider nose
Body
With crude:
Rnd 1. 6 sc in magic ring (6)
Rnd 2. 6 inc (12)
Rnd 3. 1 sc, 1 inc (18)
Rnd 4. 2 sc, 1 inc (24)
Rnd 5. 3 sc, 1 inc (30)
Rnd 6. 4 sc, 1 inc (36)
Rnd 7-8. 36 sc (36)
Change to light blue:
Rnd 9-10. 36 sc (36)
Rnd 11. 4 sc, 1 dec (30)
Rnd 12-14. 30 sc (30)
Rnd 15. 3 sc, 1 dec (24)
Rnd 16-18. 24 sc (24)
Rnd 19. 2 sc, 1 dec (18)
Rnd 20. 18 sc (18)
Let's knit the arms of the amigurumi toy 🙂
Arms
With crude:
Rnd 1. 5 sc in magic ring (5)
Rnd 2. 5 inc (10)
Rnd 3. 10 sc (10)
Rnd 4. 3 sc, 1 dec (8)
Rnd 5-14. 8 sc (8)
Change to light blue:
Rnd 15-18. 8 sc (8)
Let's knit the bow of the amigurumi toy 🙂
Bow Tie
Weaving into Magic Ring:
Rnd 1. 2 chain stitches
Rnd 2. 2 double crochet stitches
Rnd 3. 2 chain stitches
Rnd 4. 1 slip stitch
Rnd 5. 2 chain stitches
Rnd 6. 2 double stitches
Rnd 7. 2 chain stitches
Rnd 8. 1 slip stitch
Leave enough thread to make 3 or 4 turns in the middle part of the bow, bind off and then sew a doll
Let's crochet the legs of the amigurumi toy 🙂
Legs
Rnd 1. 6 sc in magic ring (6)
Rnd 2. 6 inc (12)
Rnd 3. 12 sc (12)
Rnd 4. 4 sc, 1 dec (10)
Rnd 5. 10 sc (10)
Rnd 6. 3 sc, 1 dec (8)
Rnd 7-20. 8 sc (8)
Congratulations, you have completed the amigurumi pattern. 🙂
Download PDF Pattern