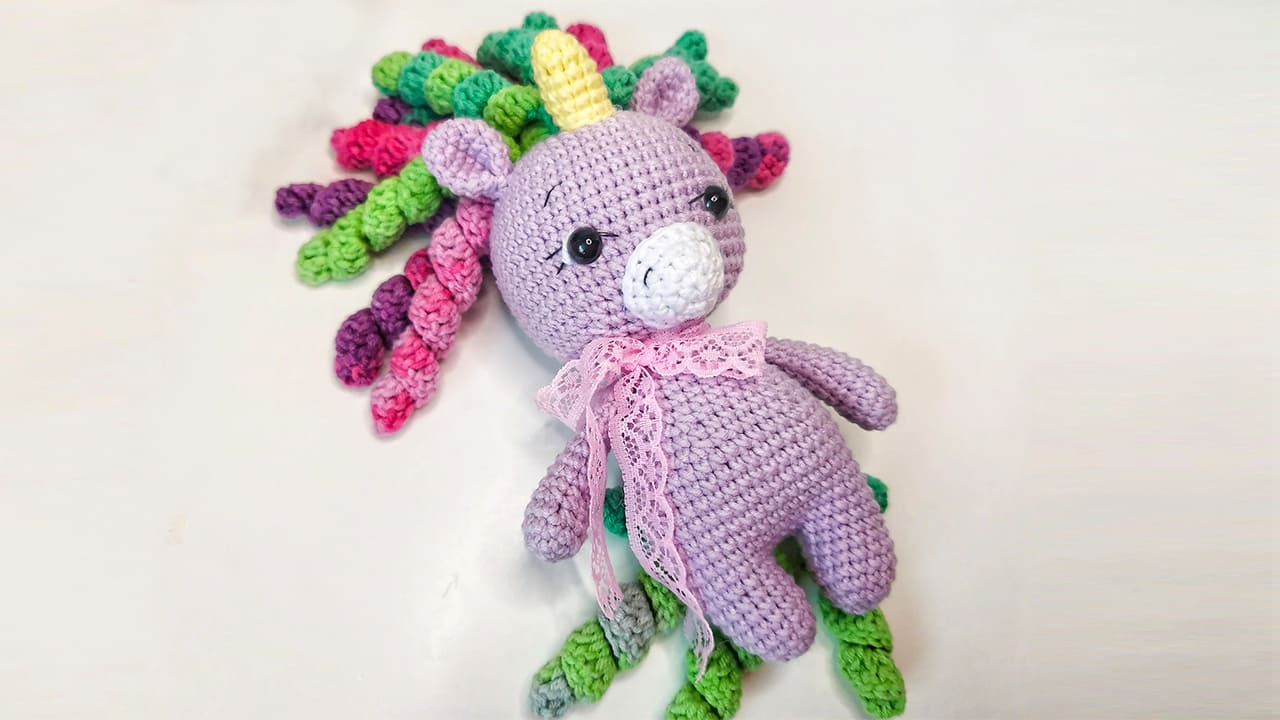 Greetings friends, we will work with you today very different crochet unicorn amigurumi pattern. First of all, I would like to thank the owner of the pattern. It is a very helpful amigurumi pattern with step by step detailed amigurumi making pictures. Beginners can do this. Crochet unicorn body and legs are crocheted as one piece. Its head and arms and other parts are fixed. Also, making a mane may be a little difficult for you, so lots of pattern images have been added. Now I wish you success. Hope your kids will love this crochet unicorn amigurumi toy. Always remember to follow us for the best free amigurumi patterns.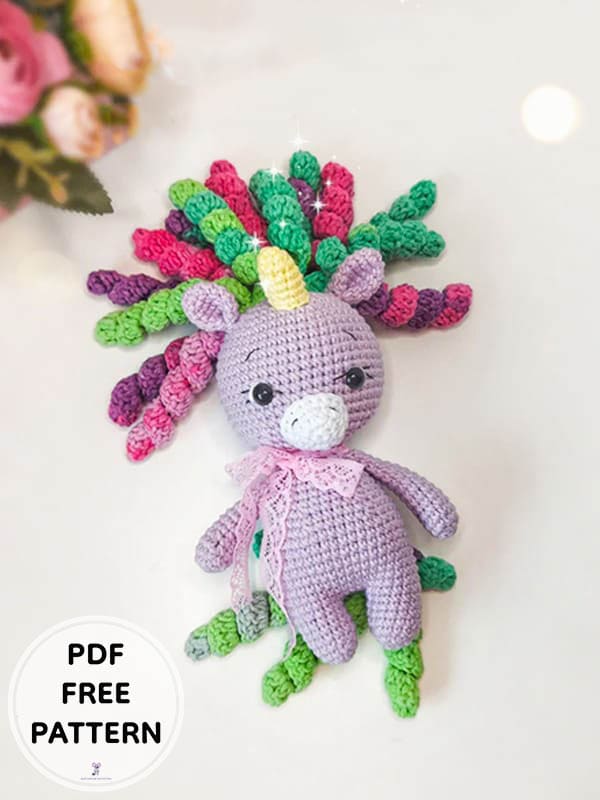 Crochet Cute Unicorn PDF Amigurumi Free Pattern
Designer: keti_amigurumi
We will need:
Yarn: base color, horn and muzzle (yarnart jeans) and colored yarn for the mane (yarnart jeans crazy or cotton gold batik).
Crochet hook 2mm
Safety eyelets 8
• The completed height of the crocheted unicorn, excluding the mane and ears, will be 13 cm.
Abbreviations
Ch: Chain
Sc: single crochet
Inc: increase
Dec: decrease
FLO: Front loop only
BLO: Back loop only
MR: Magic ring
Slst: Slip stitch
Dc: Double crochet
Hdc: Half double crochet
Head
Rnd 1. 7 sc in MR
Rnd 2. 7 inc 14sc
Rnd 3. (1sc,inc)*7=21sc
Rnd 4. (2sc,inc)*7=28sc
Rnd 5. (Зsc,inc)*7=35sc
Rnd 6. (4sc,inc)*7=42sc
Rnd 7. (5sc,inc)*7=49sc
Rnd 8-18. 49 sc
Rnd 19. (5sc,dec)*7=42sc
Rnd 20.(4sc, dec)*7=35sc
Rnd 21.(Зsc,dec)*7=28sc
Rnd 22.(2sc,dec)*7=21sc
Rnd 23. Randomly make 3 dec in a row. 18sc
Eyes between rnd 15-16.
Distance 8 sc.
Muzzle
Rnd 1. 6 sc in MR
Rnd 2. 6 inc (12)
Rnd 3. (1sc,inc)*6 (18)
Rnd 4. 18 sc (18)
Leave a cut.
Horn
Rnd 1. 6 sc in MR
Rnd 2. (1sc,inc)*3 (9)
Rnd 3. 9 sc
Rnd 4. (2sc,inc)*3 (12)
Rnd 5-7. 12 sc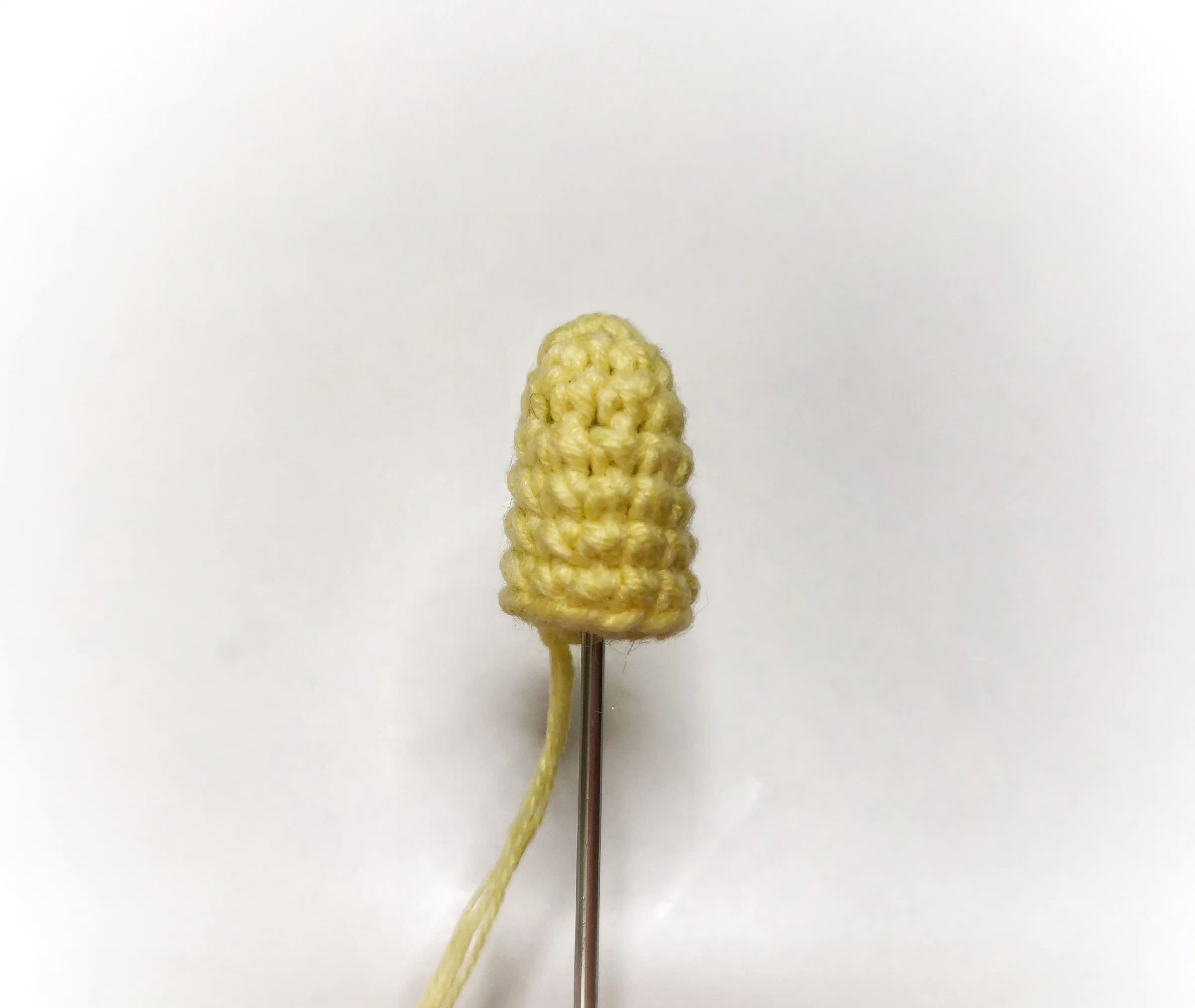 Unicorn ears
Rnd 1. 6 sc in MR
Rnd 2. (1sc+inc)*3 (9)
Rnd 3. (2sc+inc)*3 (12)
Rnd 4. (Зsc+inc)*3 (15)
Rnd 5-6. 15 sc
Rnd 7. 7 dec, sc.
Fasten the thread, leave a piece for sewing.
Arms (Make 2)
Rnd 1. 6 sc in MR
Rnd 2. 6 inc (12)
Rnd 3-4. 12 sc
Rnd 5. 2 dec, 8 sc (10)
Rnd 6-14. 10 sc
Fill the arms in half.
Legs and body
We crochet a leg.
Rnd 1. 6 sc in MR
Rnd 2. 6 inc (12)
Rnd 3. (sc,inc)*3, 6 sc (15)
Rnd 4-7. 15 sc
Fasten the thread, cut off.
• Similarly, we crochet the 2nd leg. The thread is no longer cut.
We continue to crochet:
1. We crochet 4 ch, connect the sc, the second leg. In a circle it turns out (38 sc).
2. 4 sc, inc, 2 sc, inc, 16 sc, inc, 2 sc, inc, 10 sc (42)
3-8. 42 sc
9. (5sc,dec)*6 (36)
10. 36 sc (36), (fill the legs, fix with needles to each other).
11. (4sc,dec)*6 (30)
12-13. 30 sc (30)
14. (3sc,dec)*6 (24)
15. 24 sc (24)
16. (2sc,dec)*6 (18)
17. 18 sc (18), Crochet arms on the sides.
18. 18 sc (18)
Leave a piece for sewing on the head.
Tail
1 strand (3 curls): 30 ch, crochet in the opposite direction dc, increases every other time.
We crochet with one thread.
We always finish the curl with sc and knit immediately, similarly to the rest of the curls, we collect 30 ch and so on. 2 strands (2 curls): 20 ch. We crochet in the same way as 1 strand.
Mane of 3 strands
2 strands consist of 5 curls.
1 strand of 4 curls.
We crochet 35 ch, with double crochets, alternate increases.
We crochet with one thread. When the curl ends, the last loop is sc, again we collect 35 ch and we crochet the rest of the curls in the same way. (A photo)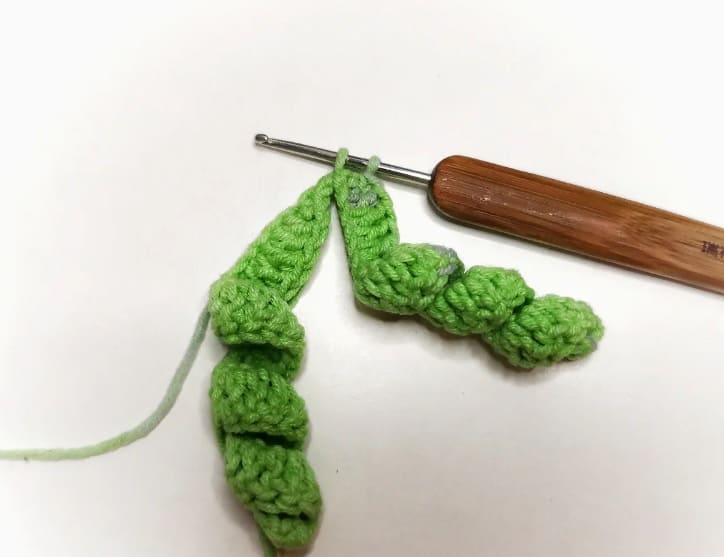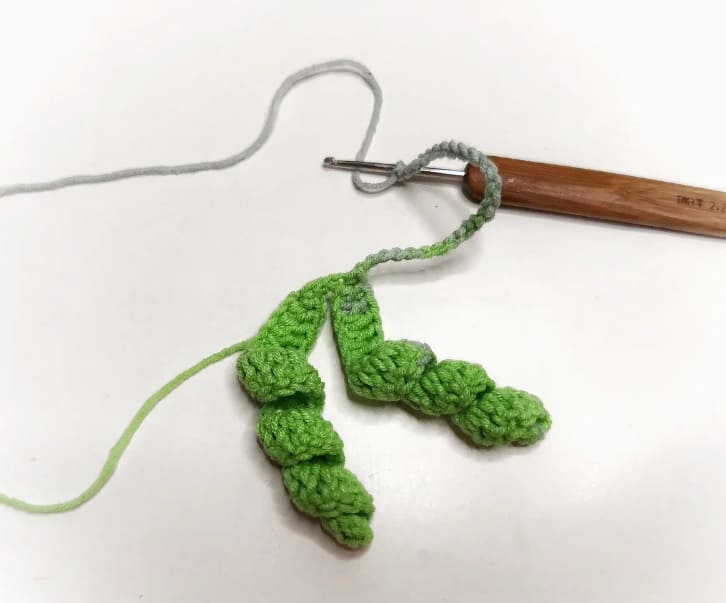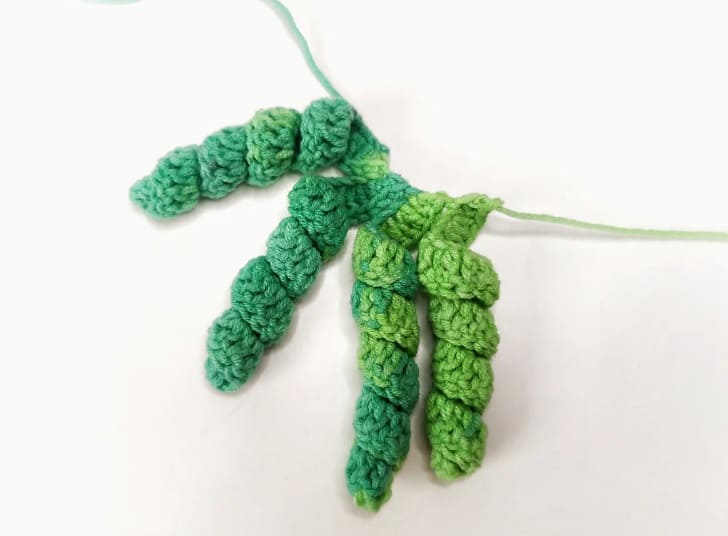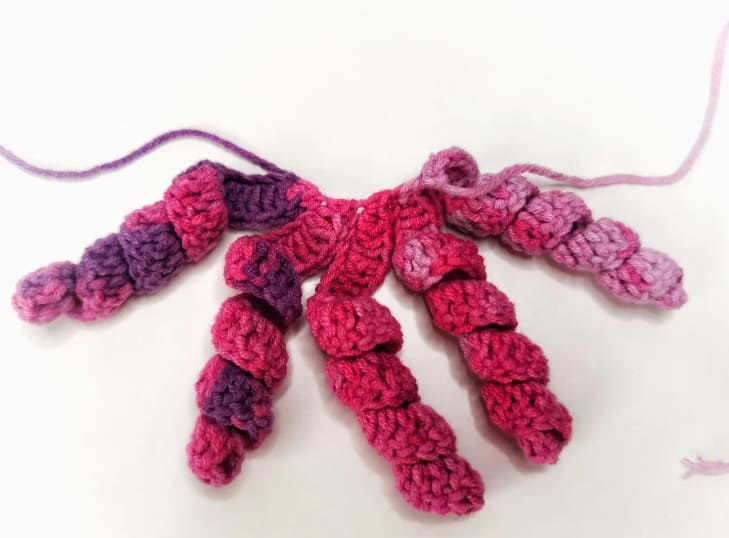 We make out the mane:
We pin strands with needles and sew in a line.
2 lower strands of 5 curls, crown of 4 curls.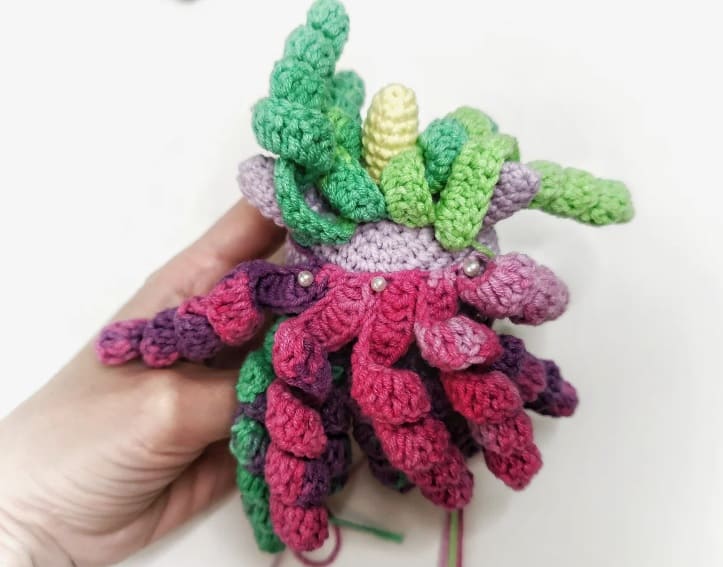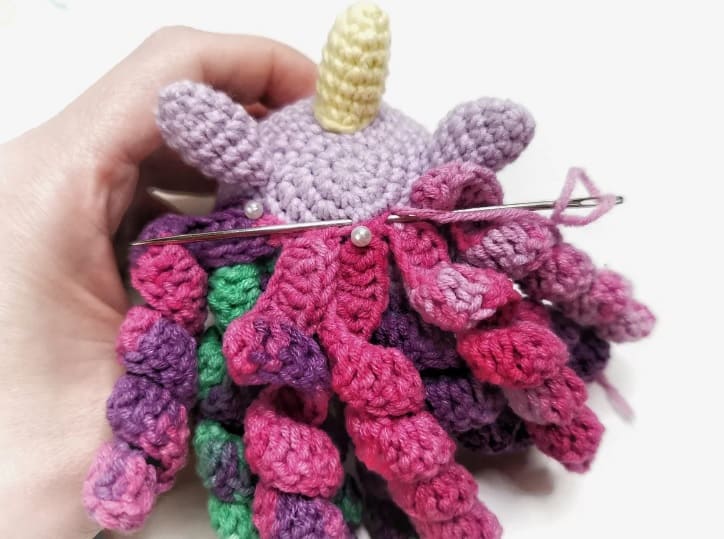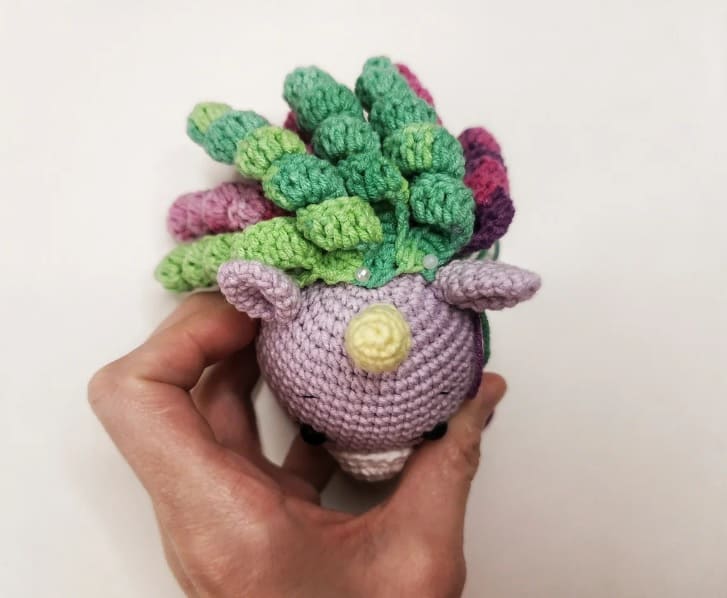 The main thing is not to forget to draw eyes, embroider eyelashes and eyebrows.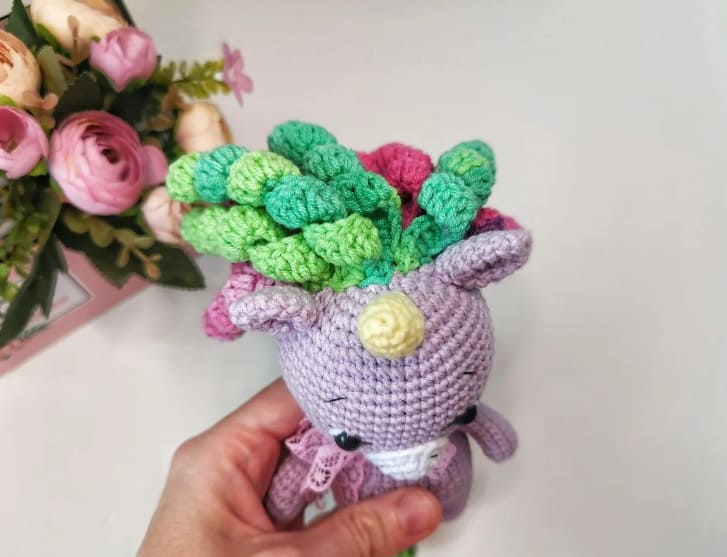 Download PDF Pattern