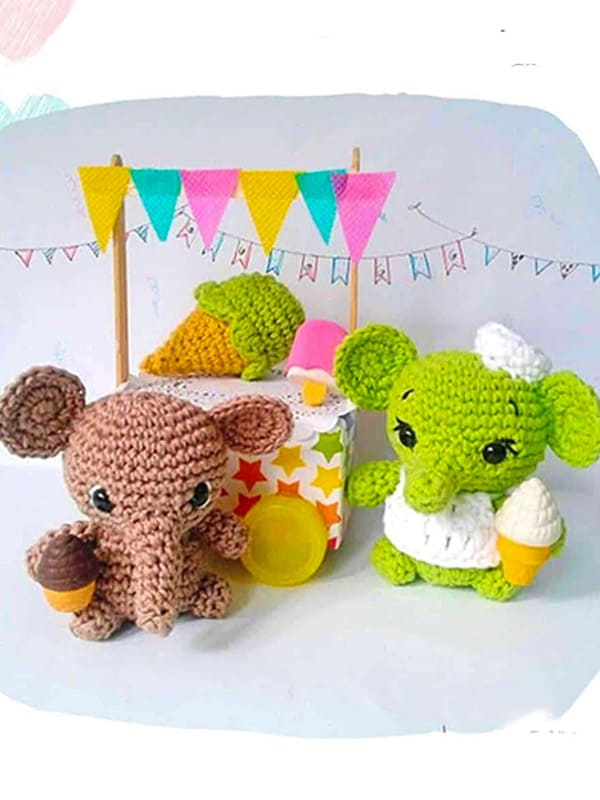 Hello everyone,
Today I have shared with you the baby elephant amigurumis pattern. You can make cute amigurumi patterns that you can use as keychains very easily step by step. You can knit the free pattern amigurumi elephant pattern for your loved ones. Are you ready to knit the cute amigurumi elephant pattern, which is a great playmate for kids?
Amigurumi baby elephants are very easy to make. You can crochet with yarn that you don't use. The thread gauges you need to pay attention to should be the same. You can make eyes out of plastic accessories. You can design different accessories for the amigurumi elephant. Don't forget to add the free amigurumi elephant pattern to your favorites list.
Simon Elephant Amigurumi Free PDF Pattern
Designer
Instagram: @mimoslaneros
Abbreviations
Sc – single crochet
Inc– increase in single crochet
Dec– decrease
Let's start crocheting the amigurumi elephant pattern 🙂
Head
Rnd 1. In a magic ring weave 6sc
Rnd 2. 1 inc at each stitch (12sc)
Rnd 3. (1 inc, 1 sc) x6 (18sc)
Rnd 4. (1 inc, 2sc) x6 (24sc)
Rnd 5. (1 inc, 3sc) x6 (30sc)
Rnd 6. 30sc
Rnd 7. (1 inc, 4sc) x6 (36sc)
Rnd 8-11. 36sc
Rnd 12. (1 dec, 4sc) x6 (30sc)
Rnd 13. (1 dec, 3sc) (24)
Rnd 14. (1 dec, 2sc) x6 (18sc)
Eyes between laps 10 and 11 with 6 stitch of separation
Fill out
We have completed the head of the amigurumi elephant pattern. Now crochet the ears 🙂
Ears
Rnd 1. Magic ring with 7sc
Rnd 2. inc at each stitch (14sc)
Rnd 3. (1 inc, 1 sc) x 6 (21sc)
Coserlas a partir de la hilera 6 a los lados de la cabeza, planas sin doblar.
Tejemos la parte del cuerpo del patrón de elefante amigurumi y la trosca del elefante 🙂
Body
Rnd 1. Anillo mágico con 6 sc
Rnd 2. inc at each stitch (12sc)
Rnd 3. (1 inc, 1sc) x6 (18sc)
Rnd 4. (1 inc, 2sc) x6 (24sc)
Rnd 5. (1 inc, 3sc) x6 (30sc)
Rnd 6-7. 30 sc
Rnd 8. (1 dec, 8sc) x3 (27sc)
Rnd 9. (1 dec, 7sc) x 3 (24sc)
Rnd 10. (1 dec, 6sc) x 3 (21sc)
Rnd 11. (1 dec, 5sc) x3 (18sc)
Trunk
Rnd 1. Magic ring with 6 sc
Rnd 2. 1sc in each stitch of the previous row taking the back strand (6sc)
Rnd 3. 1 sc at each stitch (6sc)
Rnd 4. 2sc, 1 inc, 3sc (7sc)
Rnd 5. 3sc, 1inc, 3 sc (8sc)
Rnd 6. 1 dec, 3sc, 1 inc, 2sc (8sc)
Rnd 7. 4sc, 1 inc, 3sc (9sc)
Rnd 8. 4sc, 1 inc, 4 sc (10sc)
Fill a little and sew to the head between the eyes from row 9
Let's crochet amigurumi elephant hands and legs 🙂
Hands
Rnd 1. Magic ring with 8 sc
Rnd 2. 1sc in each stitch of the previous round taking the back loop (8sc)
Rnd 3. 1 sc at each stitch (8sc)
Rnd 4. 1 dec, 6 sc (7sc)
Rnd 5. 1 dec, 5 sc (6sc)
Fill a little, flatten and sew
Legs
Rnd 1. Magic ring with 8sc
Rnd 2. 1sc in each stitch of the previous row taking the back strand (8sc)
Rnd 3. 1 sc at each stitch (8sc)
Fill a little and sew to the belly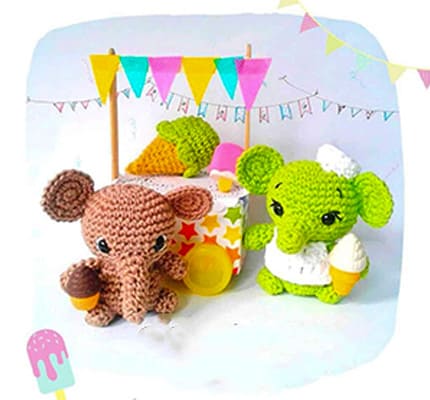 Congratulations, you have completed the amigurumi pattern. 🙂
Download PDF Pattern