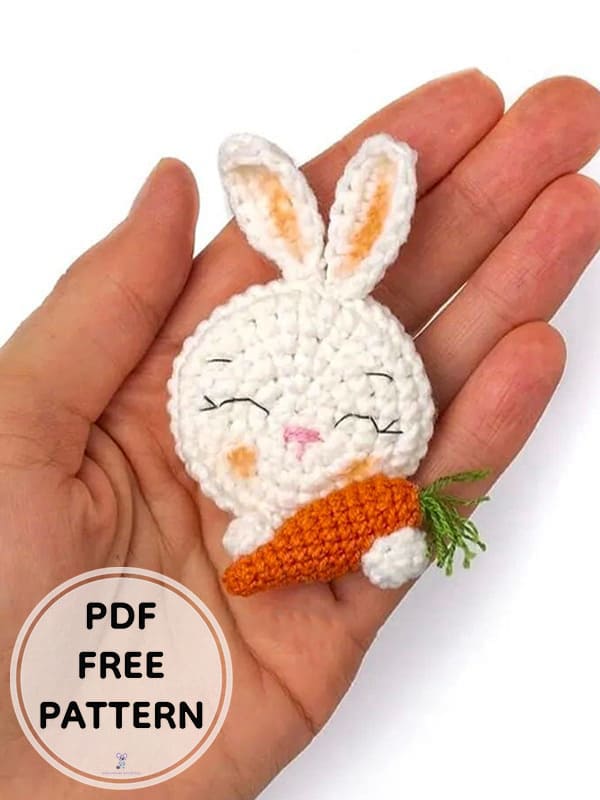 Greetings friends, I brought you a very cute amigurumi pattern today. First of all, I would like to thank our designer for doing such a lovely work. Crochet toy bunny brooch. Thanks to the step by step pattern instruction you will be able to complete this cute crochet brooch. You can attach the crochet bunny brooch, which looks very cute, to your clothes or to your bags. I have no doubt that it will make a beautiful handmade gift, now I invite you to the free pattern description. Don't forget to follow us for more free amigurumi patterns.
Cute Crochet Bunny Brooch PDF Amigurumi Free Pattern
Designer: lukoshkina.o
Abbreviations
sts- stitches
ch- chain
hdc- half double crochet
sc- single crochet
Head
Yarn: YarnArt Jeans, crochet hook: 2.25 mm.
Rnd 1. 6 sts
Rnd 2. 12 sts
Rnd 3. 18 sts
Rnd 4. 24 sts
Rnd 5. 30 sts
Rnd 6. 36 sts
Rnd 7-8. 36 sts
Fill the filler just a little bit.
The first and last row is the center of the circle.
Rnd 9. 30 sts
Rnd 10. 24 sts
Rnd 11. 18 sts
Rnd 12. 12 sts
Rnd 13. 6 sts
Ears
– 7 ch + 1 ch for turning
– sc in each of next 7 ch, ch, turn
– around: sc in each of next 2 sts, hdc in each of next 10 sts, sc in each of next 2 sts.
Arms
Rnd 1. 6 sts, ch, turn
Rnd 2. 6 sts
Sew two ends of a semicircle.
Carrot
(Yarn: YarnArt Cotton soft (600 m/ 100g) or Alize Miss (280m/ 50g),crochet hook: 1.25 mm)
Rnd 1. 6 sts
Rnd 2. 6 sts
Rnd 3. 9 sts
Rnd 4. 9 sts
Rnd 5. 12 sts
Rnd 6. 12 sts
Rnd 7. 15 sts
Rnd 8-11. 15 sts
Rnd 12. 12 sts
Rnd 13. 12 sts
Rnd 14. 6 sts
Your cute bunny brooch is ready!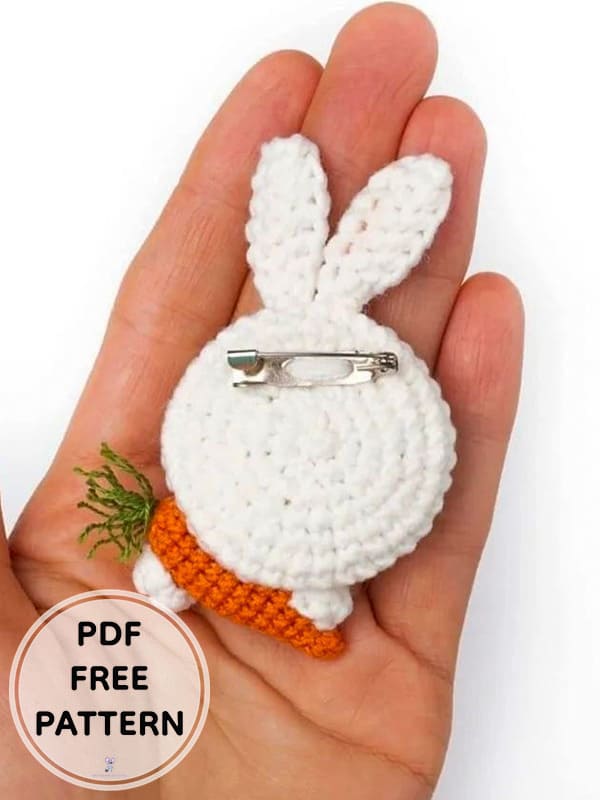 Download PDF Pattern