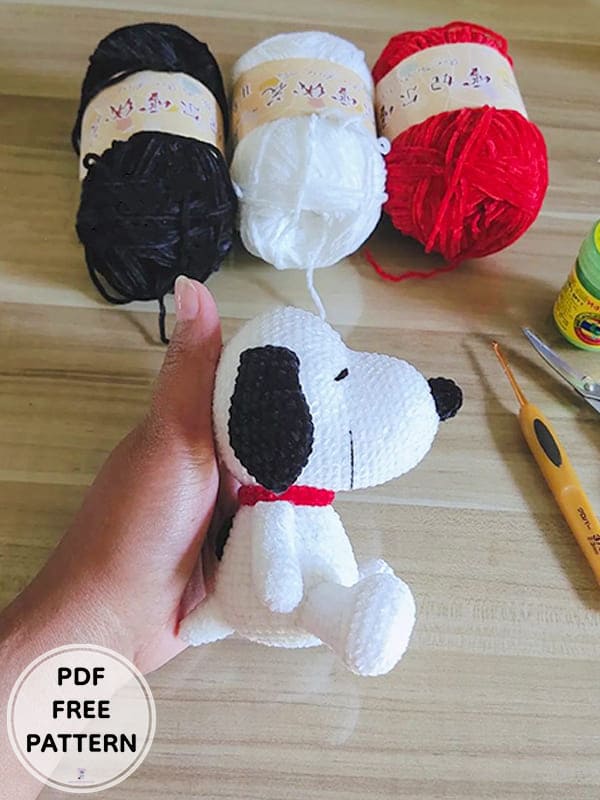 Greetings my friends, we are with you today with snoopy, one of the main heroes of the Peanuts cartoon series. First of all, I would like to thank the crochet dog designer for the snoopy crochet pattern. Crochet snoopy amigurumi toys are very popular, so I wanted to surprise you today. The finished cute dog size will be 4 inches. Thanks to the step by step detailed and easy amigurumi pattern instruction, you will not find it difficult even if you are a beginner. Now I invite you to the crochet snoopy pattern instruction. Do not forget to share your finished images on our facebook page.
Crochet Snoopy Dog Amigurumi Free PDF Pattern
Designer: tamtam_ami
Abbreviations
MR: Magic ring
Ch: Chain
Sc: Single crochet
Slst: Slip stitch
Inc: Increase
Dec: Decrease
• The finished snoopy size will be 4 inches.
Head
Rnd 1. 6 sc in MR (6)
Rnd 2. 6 inc (12)
Rnd 3. (1sc,inc)*6 (18)
Rnd 4. (2sc,inc)*6 (24)
Rnd 5. (3sc,inc)*6 (30)
Rnd 6. (4sc,inc)*6 (36)
Rnd 7-13. 36 sc (36)
Rnd 14. 12 sc, 12 inc, 12 sc (48)
Rnd 15. 12 sc, (1sc,inc)*12, 12 sc (60)
Rnd 16-22. 60 sc (60)
Rnd 23. 12 sc, (1sc,dec)*12, 12 sc (48)
Rnd 24. 48 sc (48)
Rnd 25. (10sc,dec)*4 (44)
Rnd 26. (20sc,dec)*2 (42)
Rnd 27. (5sc,dec)*6 (36)
Rnd 28. 2 sc, (4sc,dec)*5, 2 sc (30)
Rnd 29. (3sc,dec)*6 (24)
Rnd 30. 1 sc, (2sc,dec)*5, 1 sc (18)
Rnd 31. (1sc,dec)*6 (12)
Rnd 32. (6dec)*6, slst (6)
Ears (Make 2)
Black color.
Rnd 1. 6 sc in MR (6)
Rnd 2. (1sc,inc)*3 (9)
Rnd 3. (2sc,inc)*3 (12)
Rnd 4. (3sc,inc)*3 (15)
Rnd 5. (4sc,inc)*3 (18)
Rnd 6-7. 18 sc (18)
Rnd 8. (4sc,dec)*3 (15)
Rnd 9-10. 15 sc (15)
Rnd 11. (3sc,dec)*3 (12)
Rnd 12-13. 12 sc (12)
Rnd 14. 12 sc, slst (12)
Nose
Black color.
Rnd 1. 5 sc in MR (5)
Rnd 2. 5 inc (10)
Rnd 3. 10 sc
Rnd 4. 10 sc, slst (10)
Body
Rnd 1. 6 sc in MR (6)
Rnd 2. 6 inc (12)
Rnd 3. (1sc,inc)*6 (18)
Rnd 4. (2sc,inc)*6 (24)
Rnd 5. (3sc,inc)*6 (30)
Rnd 6. (4sc,inc)*6 (36)
Rnd 7. (5sc,inc)*6 (42)
Rnd 8-13. 42 sc (42)
Rnd 14. (5sc,dec)*6 (36)
Rnd 15. 36 sc (36)
Rnd 16. (4sc,inc)*6 (30)
Rnd 17. 30 sc (30)
Rnd 18. (3sc,dec)*6 (24)
Rnd 19. 24 sc (24)
Rnd 20. 24 sc, slst (24)
Arms (Make 2)
Rnd 1. 6 sc in MR (6)
Rnd 2. (1sc,inc)*3 (9)
Rnd 3-11. 9 sc (9)
Rnd 12. 9sc, slst (9)
Legs (Make 2)
Start with chain.
Rnd 1. 6 ch, from the 2nd ch- 4 sc, 3 sc in 1 stitch, along the other side – 3 sc, inc (12)
Rnd 2. 2 inc, 2 sc, 4 inc, 2 sc, 2 inc (20)
Rnd 3. 1 sc, inc, 6 sc, inc, 2 sc, inc, 6 sc, inc, 1 sc (24)
Rnd 4-5. 24 sc (24)
Rnd 6. 1 sc, dec, 5 sc, 4 dec, 5 sc, 1 dec, 1 sc (18)
Rnd 7. 1 dec, 4 sc, 3 dec, 4 sc, 1 dec (13)
Rnd 8-12. 13 sc (13)
Rnd 13. 2 sc, slst (2)
Tail
Rnd 1. 6 sc in MR (6)
Rnd 2. 6 sc (6)
Rnd 3. (1sc,inc)*3 (9)
Rnd 4. 9 sc (9)
Rnd 5. (2sc,inc)*3 (12)
Rnd 6. 12 sc, slst (12)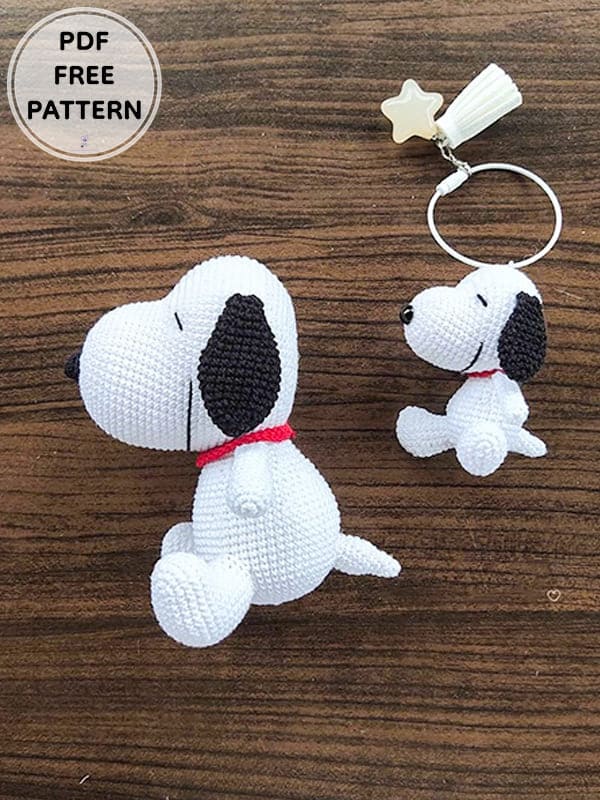 Download PDF Pattern