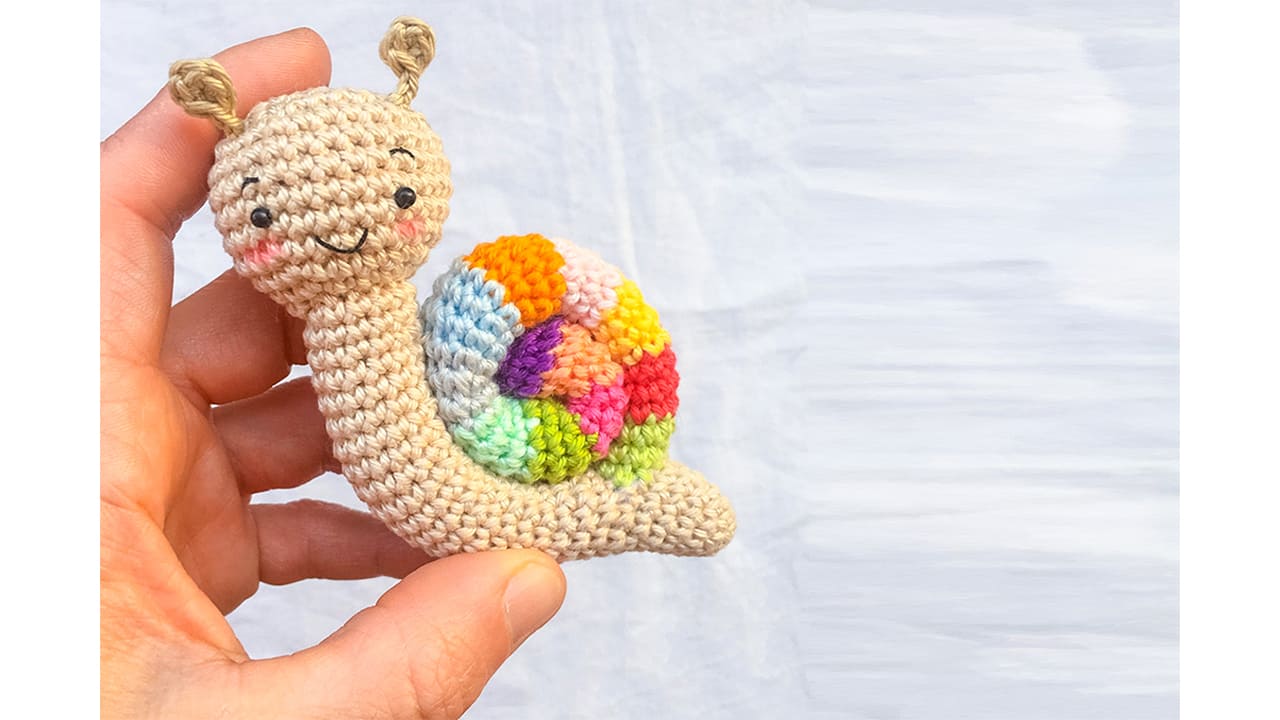 Greetings friends, I brought you a tiny crochet snail amigurumi pattern. I would like to start my words by thanking the owner of the pattern. The designer used a 2.5mm crochet hook to make a crochet amigurumi snail. He made the cute snail colorful and made it look like a rainbow and it was very cute. Thank you for visiting our website amigurumireceitas.com. It is an easy level amigurumi pattern for beginners thanks to its detailed step by step amigurumi patterns instruction. Gather supplies now and complete the amigurumi snail. Happy weeks.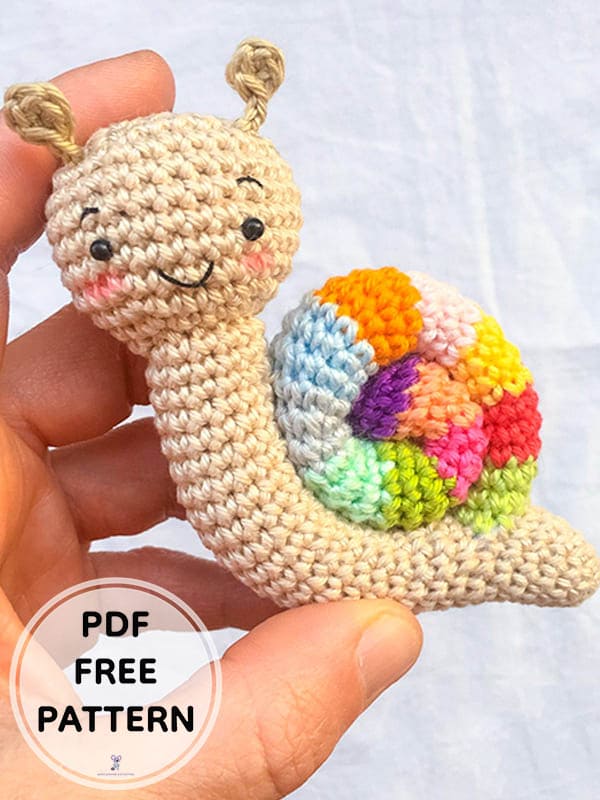 Crochet Rainbow Snail Amigurumi PDF Free Pattern
Designer: amigurumi_amo
Materials
• Crochet hook size: 2,5/ 3 mm
• Cotton yarn in light brown and other colors
• Yarn needle
• Fiberfill stuffing
• Black beads
Abbreviations
Ch: Chain
MR: Magic ring
Sc: Single crochet
FLO: Front loop only
St: Stitch
Slst: Slip stitch
Body
From the end of the body, use light brown.
Rnd 1. 6 sc in MR (6)
Rnd 2. (sc,inc)*3 (9)
Rnd 3. (2sc,inc)*3 (12)
Rnd 4. (3sc,inc)*3 (15)
Rnd 5-7. 15 sc (15)
Rnd 8. 7 ch, skip 7 st, insert the hook in the 8th st and work 8 sc (15)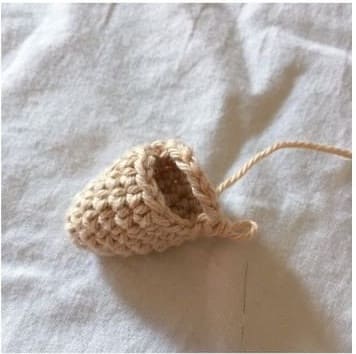 Rnd 9-28. 15 sc (15)
Rnd 29. slst 15
Rnd 30. (2sc,inc)*5 (20) FLO
Rnd 31. (4sc,inc)*4 (24)
Rnd 32. (3sc,inc)*6 (30)
Rnd 33-37. 30 sc (30)
Rnd 38. (3sc,dec)*6 (24)
Rnd 39. (2sc,dec)*6 (18)
Rnd 40. (sc,dec)*6 (12)
Fill with fiberfill.
Rnd 41. dec*6 (6)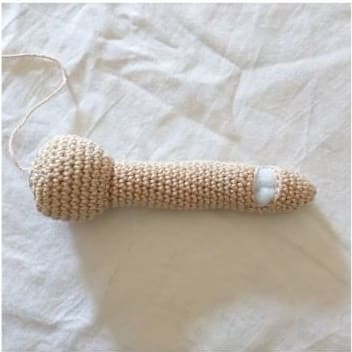 Spiral
I worked three rows for each color for 12 colors in total (12×3=36 total rows).
Work as follows insert the hook in the 6th st (head side) and work * sc, dec* repeat two times more (12).
Work 34 rows and decrease in the last two rows:
Rnd 35. (sc2,dec)*3 (9)
Rnd 36. (sc,dec)*3 (6)
Important: Fill with filler as you go.
Cut off and secure. Wrap around the spiral and secure with some little stitches to the body.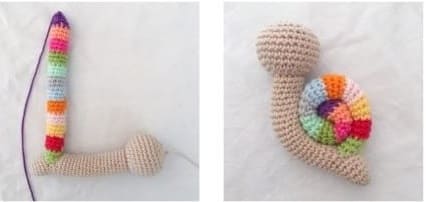 Sew the beads, embroider eyebrows and mouth.
Color the cheeks.
Antennae (Make 2)
Sc 4 in magic ring, slst in the first sc, ch3.
Cut off and leave a long tail for sewing them on the head.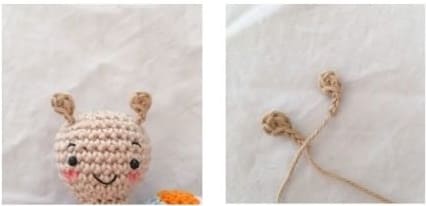 Download PDF Pattern