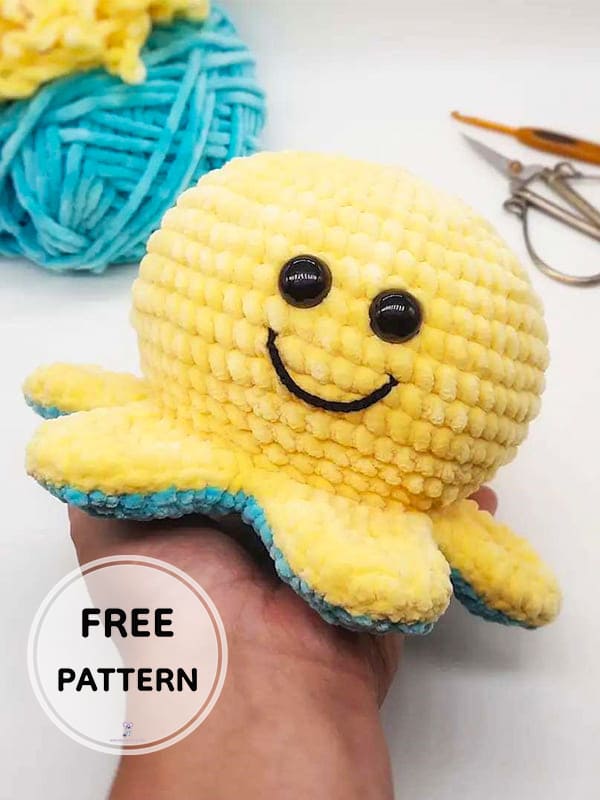 Hello everyone friends,
Today I brought you a very cute crochet octopus amigurumi pattern. Thank you to the owner of the pattern for giving it to us for free. Thanks to the detailed step by step crochet pattern instruction, beginners will easily complete this crochet octopus amigurumi pattern. You can make it in two different colors if you wish. The designer used plush yarn while making the amigurumi pattern, so it looks softer and more beautiful. Take a look at the pattern instructions right now to make a nice plush crochet octopus amigurumi sleep companion for your children. Don't forget to follow us for more free crochet amigurumi patterns.
Crochet Plush Octopus PDF Amigurumi Free Pattern
Designer: _igryshkiotkatushki_
Materials
• Yarn in two colors.
• Hook suitable for the selected yarn.
• Eyes – 2 pairs. Choose the size of the eyes according to the size of the toy.
• Dark thread for embroidering the mouth.
• Strong thread for stitching parts, needle, scissors, glue.
• Filler.
For octopus, I used: Himalaya Dolphin baby 120m/100g (consumption is about 50g of each color), hook No. 4, eyes 13 mm.
Abbreviations
MR– magic ring
Ch– chain
Sc– single crochet
Inc– increase
Dec– decrease
Sl st– slip stitch
Ll– lifting loop (Clique no link para ver como é feito)
Octopus Head
Rnd 1. 8 sc in MR (8)
Rnd 2. 8 inc (16)
Rnd 3. (1 sc; inc)х8; (24)
Rnd 4. (1 sc; inc)х12; (36)
Rnd 5. (5 sc; inc)х6; (42)
Rnd 6. 3 sc; inc; (6 sc; inc)х5; 3 sc; (48)
Rnd 7. (7 sc; inc)х6; (54)
Rnd 8. 4 sc; inc; (8 sc; inc)х5; 4 sc; (60)
Rnd 9-14. (6 rnds) – 60 sc; (60)
Rnd 15. 4 sc; dec; (8 sc; dec)х5; 4 sc; (54)
Rnd 16. (7 sc; dec)х6; (48)
Rnd 17. 3 sc; dec; (6 sc; dec)х5; 3 sc; (42)
Rnd 18. 42 sc; (42)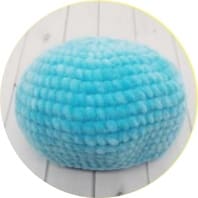 Next, we begin to knit the tentacles:
Rnd 19. 6 sc; (we don't crochet a row, we do ll ; turn) (6)
Rnd 20-23. 6sc; ll; turn (6)
Rnd 24. dec; 2sc; dec; ll; turn (4)
Rnd 25. 2dec (2)
Fasten the thread, cut. thread ends while you can not remove, hide them when stitching parts inside the product.
We retreat from the first tentacle 1 column, fasten the thread to the next column (in the 8th column of the row) and repeat 19-25 rows.
Thus, we crochet to the end of the row, in total we get 6 tentacles.
We do not cut the thread of the latter, but we will begin to tie the entire product along circle: we make ll and we crochet the usual sc along the tentacles, and sl-st in column between them.
Those. for each of the tentacles we crochet:
6 sc on the side (1 sc at the beginning of each row); 2 sc for 25- th row; 6 sc on the second side; and 1 sl-st in a loop between tentacles; At the end, we make slst into the lifting loop, fasten and cut a thread.

We crochet exactly the same part from the yarn of another colors.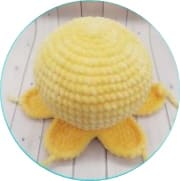 If you are using eyelets on a safe fastening, then insert them into each part with the front side, in the 10-11th row, between the points input – 4 columns.
We lay a little filler in one part (you can not lay at all).
We insert the second part into it, purl sides to each other. We sew the details with a strong, thin thread among themselves along the edge of the tentacles.
Also, we sew the parts together, approximately, along the 17th row, so that when turning the toy filler did not shift into the tentacles.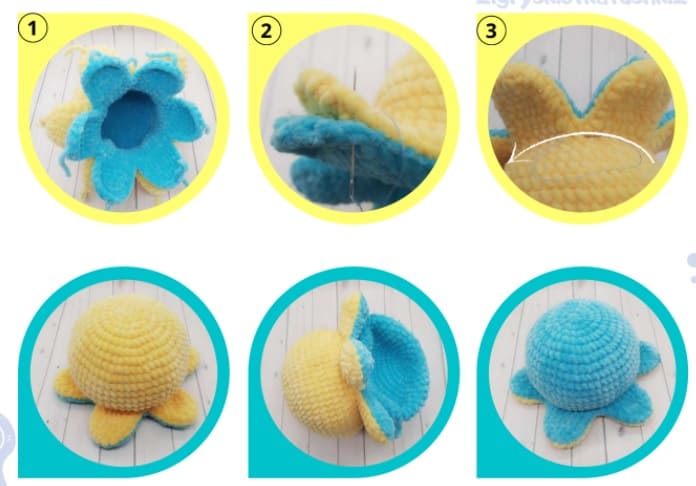 Glue the eyes and embroider a mouth on each side.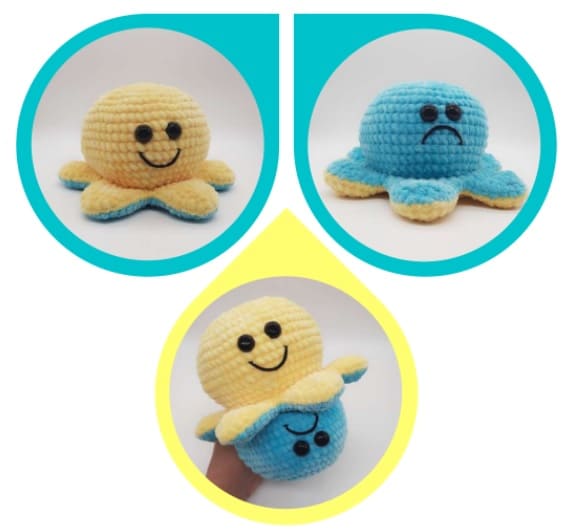 Download PDF Pattern