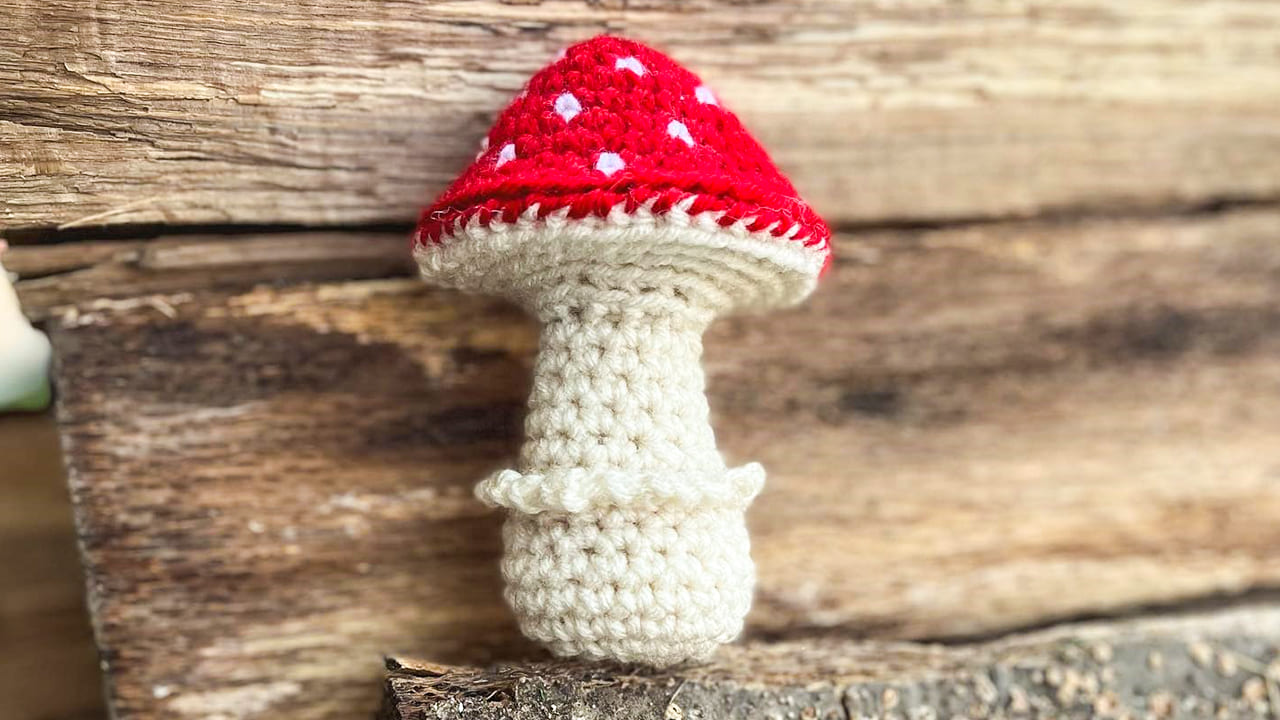 Hello everyone, friends, today we will work with you crochet mushroom amigurumi pattern. First of all, thank you very much to the owner of the pattern. Thanks to the step by step detailed crochet mushroom amigurumi pattern instructions, you can complete the pattern without difficulty. We have shared a crochet mushroom keychain before and it was loved, you can turn this pattern into a keychain. The materials needed to make amigurumi are on our list. Now I invite you to the crochet mushroom pattern instructions. Stay tuned for more free amigurumi patterns.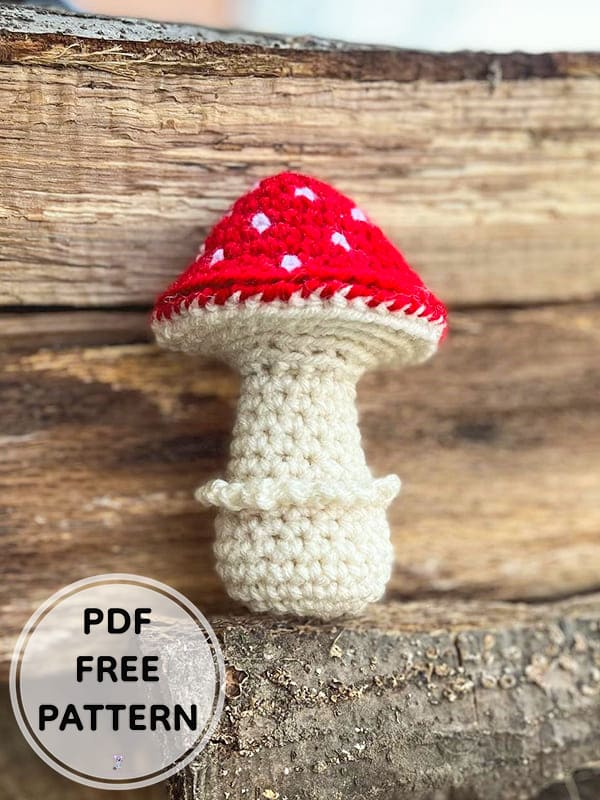 Crochet Mushroom PDF Amigurumi Free Pattern
Designer: amiany.design
Materials
Yarn:
• Alize cotton gold: 36, brick red (330m/100g)
• Yarnart jeans: 5, cold beige (160m/50g)
• Yarnart jeans: 01, white (160m/50g)
Tools:
• Crochet hook: 2- 2.5 mm
• Yarn needle
• Scissors
• Stitch markers
• Fiberfill
Abbreviations
MR: Magic ring
Ch: Chain
Sc: Single crochet
Inc: Increase
Dec: Decrease
FLO: Front loops only
BLO: Back loops only
Stem
Use cold beige yarn.
Rnd 1. 7 sc in MR (7)
Rnd 2. 7 inc (14)
Rnd 3. (1sc,inc)*7 (21)
Rnd 4-6. 21 sc (21)- 3 rounds
Rnd 7. (5sc,dec)*3 (18)
Rnd 8. 18 sc (18)
Rnd 9. BLO 18 sc (18)
Rnd 10. (7sc,dec)*2 (16)
Rnd 11. 16 sc (16)
Begin stuffing the stem and continue stuffing as you go.
Rnd 12. 3sc, dec, 6sc, dec, 3sc (14)
Rnd 13. 14 sc (14)
Rnd 15. FLO- (1sc, inc)*6 (18)
Rnd 16. BLO- 1sc, inc, (2sc,inc)*5, 1sc (24)
Rnd 17. BLO- (3sc,inc)*6 (30)
Rnd 18. BLO- 2sc, inc, (4sc,inc)*5, 2sc (36)
Rnd 19. BLO- (5sc,inc)*6 (42)
Fasten off and weave in the yarn end.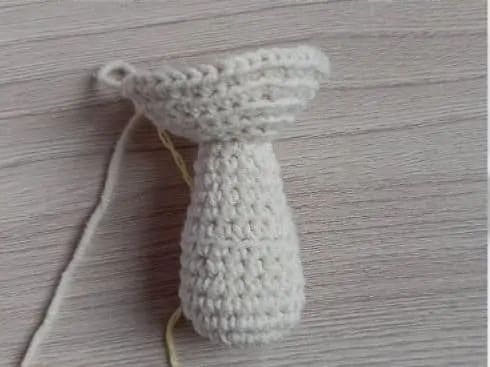 Attach the yarn to the round with front loops (round 9) and work the following: (ch 1, 1 sc, ch 2, 1 sc) to the end of the round. Slip stitch into the first stitch of the round. Fasten off and weave in the end.

Cap
Use brick red yarn. You can embroider the spots on the cap, or you can crochet them while making the cap. Make a spot as follows.
Insert the hook into the next stitch and make a yarn over with white yarn. There are two loops on the hook: white and brick red.

Switch to brick red yarn, yarn over and pull the yarn through these loops. This creates V-shapped spots.

Make spots in a chaotic order. Start making spots in the third round and crochet them each odd round in a checkerboard pattern. If you want, make spots in each round, but not in the last one.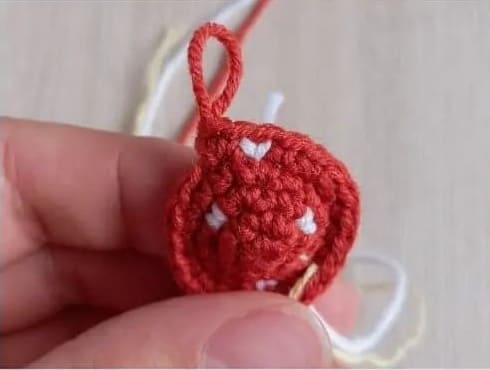 Rnd 1. 5 sc in MR (5)
Rnd 2. 5 inc (10)
Rnd 3. (1sc,inc)*5 (15)
Rnd 4. 1sc, inc, (2sc,inc)*4, 1sc (20)
Rnd 5. (3sc,inc)*5 (25)
Rnd 6. 2sc, inc, (4sc,inc)*4, 2sc (30)
Rnd 7. (5sc,inc)*5 (35)
Rnd 8. 3sc, inc, (6sc,inc)*4, 3sc (40)
Rnd 9. (19sc,inc)*2 (42)
Rnd 10. 42 sc (42)
Fasten off and leave a long tail for sewing.
The spots are made each odd round.
This is how the cap looks from the inside.

Assembly
Sew the cap to the stem. Sew it, inserting the needle into half loop of both pieces.
Do not stuff the cap.
Fasten off and hide all the yarn ends.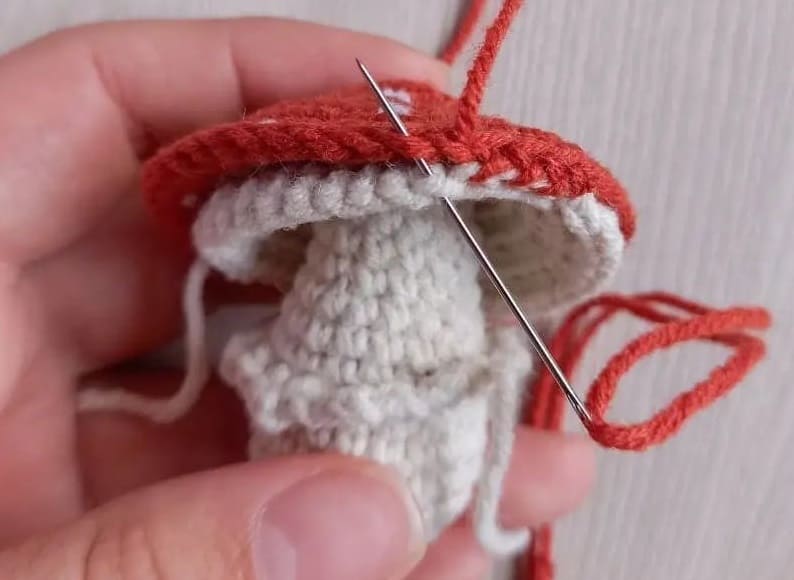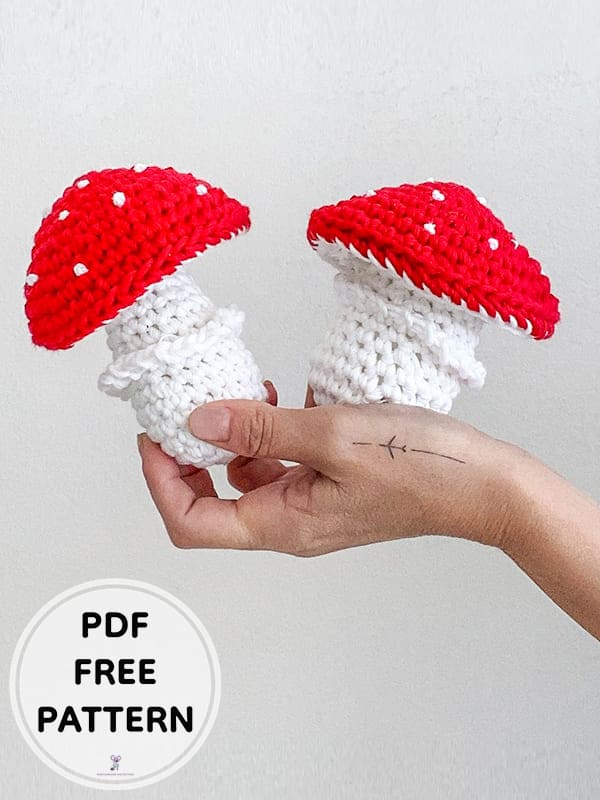 Download PDF Pattern