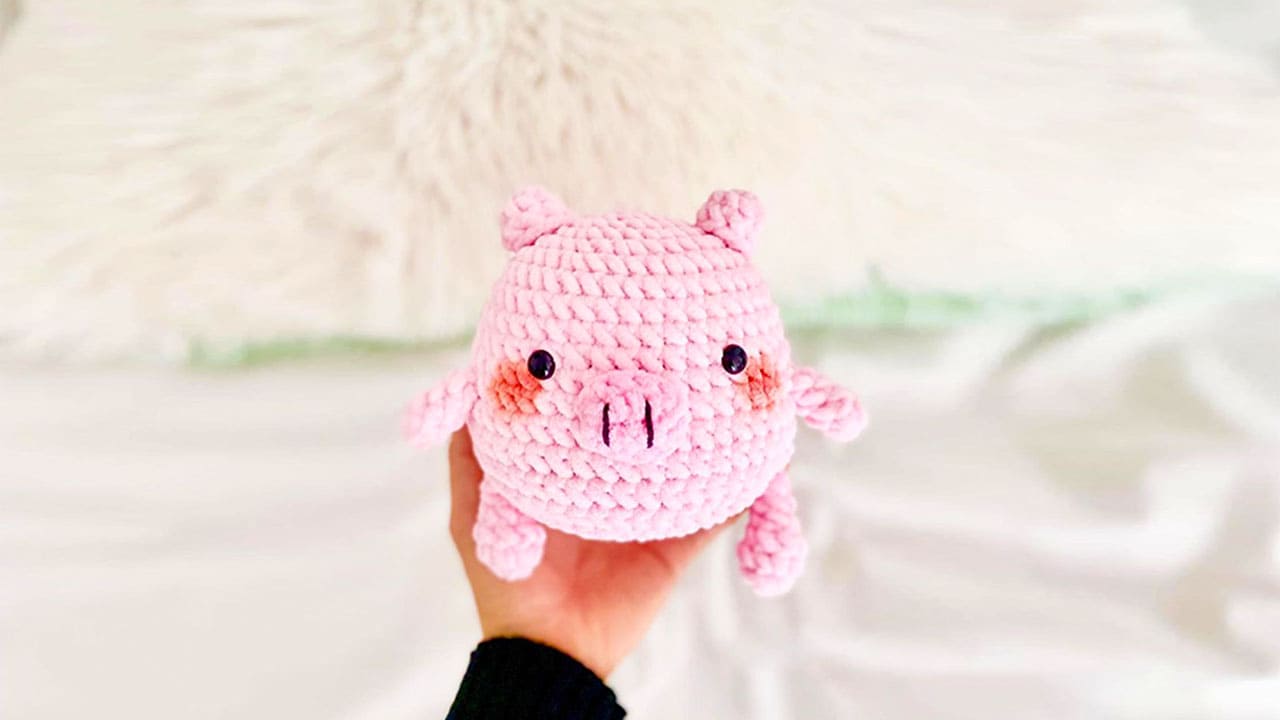 Hello everyone who loves amigurumi,
Today I shared for you the cute little pig Lizzo's amigurumi toy. It is quite easy to crochet the pig amigurumi pattern step by step. Those who are new to making amigurumi can easily make this pattern. The body and head of the pig pattern are crocheted the same. When we prepare the arms, legs and ears, we will have completed the amigurumi pattern. Now we can decorate as we want. We can create superheroes using small fabrics. We can design a gift toy for halloween using black fabric. You can decorate this cute amigurumi pig toy for Christmas day. Thank you to the creator of the cute pig amigurumi pattern. Don't forget to add it to your favorite list and share it with your loved ones.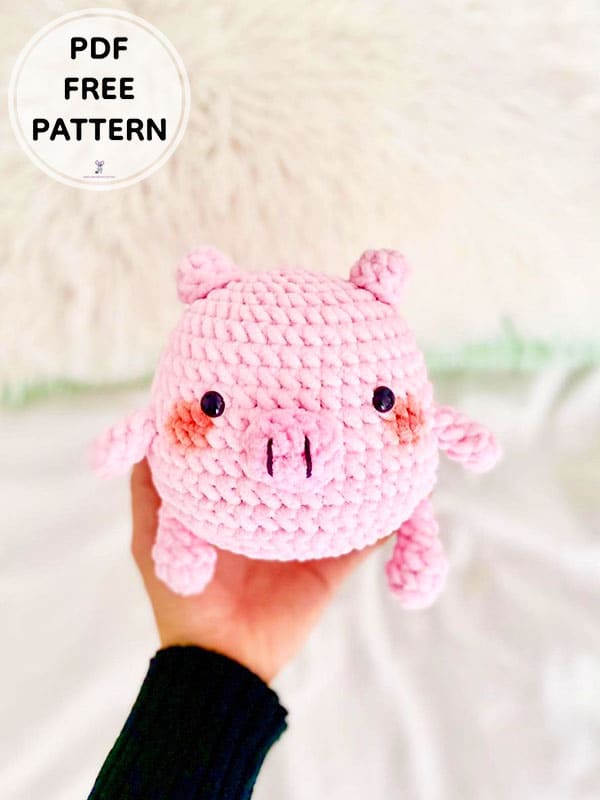 Crochet Little Pig Lizzo Amigurumi PDF Free Pattern
Designer: beary_bearnita_
Materials
• Yarn: sport or DK light weight yarn. (I used Yarnart Jeans)
• Crochet hook: 3,5 mm- 4mm
• Safety eyes size 9mm
• Black embroidery thread
• Fiberfill
• Yarn needles
Abbreviation
MR– magic ring
Ch– chain
Sc– single crochet
Hdc– half double crochet
Dc– double crochet
Inc– increase (2 single crochet in 1 stitch)
Dec– decrease (invisible decrease)
FLO– front loop only
Slst– slip stitch
Body
Start with pink
Rnd 1. 7sc in MR (7)
Rnd 2. 7 inc (14)
Rnd 3. (sc, inc)*7 (21)
Rnd 4. (2sc, inc)*7 (28)
Rnd 5. sc, inc, (3sc, inc)*6, 2sc (35)
Rnd 6. (4sc, inc)*7 (42)
Rnd 7-10. (4rnds) 42sc (42)
Rnd 11. (6sc, inc)*6 (48)
Insert the safety eyes between round 10 & 11. 8 sts apart
Rnd 12-16. (5 rnds) 48sc (48)
Rnd 17. (4sc, dec)*8 (40)
Rnd 18. (3sc, dec)*8 (32)
Rnd 19. (2sc, dec)*8 (24)
Rnd 20. (sc, dec)*8 (16)
Rnd 21. 8 dec (8)
Cut the yarn, fasten off
Ears (x2)
Rnd 1. 4sc in MR (4)
Rnd 2. 4 inc (8)
Rnd 3. 8sc (8)
Cut the yarn. Leave a long tail for sewing
Arm (x2)
Rnd 1. 5sc in MR (5)
Rnd 2-4. (3 rnds) 5sc (5)
Cut the yarn. Leave a long tail for sewing.
Leg (x2)
Rnd 1. 6sc in MR (6)
Rnd 2. (sc, inc)*3 (9)
Rnd 3. 9sc (9)
Rnd 4. (sc, dec)*3 (6)
Rnd 5-6. (2 rnds) 6sc (6)
Cut the yarn. Leave a long tail for sewing.
Snout
Rnd 1. ch 3, inc, 4sc in last chain, inc (8)
Rnd 2. inc, 2sc, 2 inc, 2sc, inc, slst (12)
Cut the yarn, leave a long tail for sewing.
Thank you for visiting our website amigurumireceitas.com.
Congratulations, you have completed the amigurumi pig pattern. 🙂
Download PDF Pattern