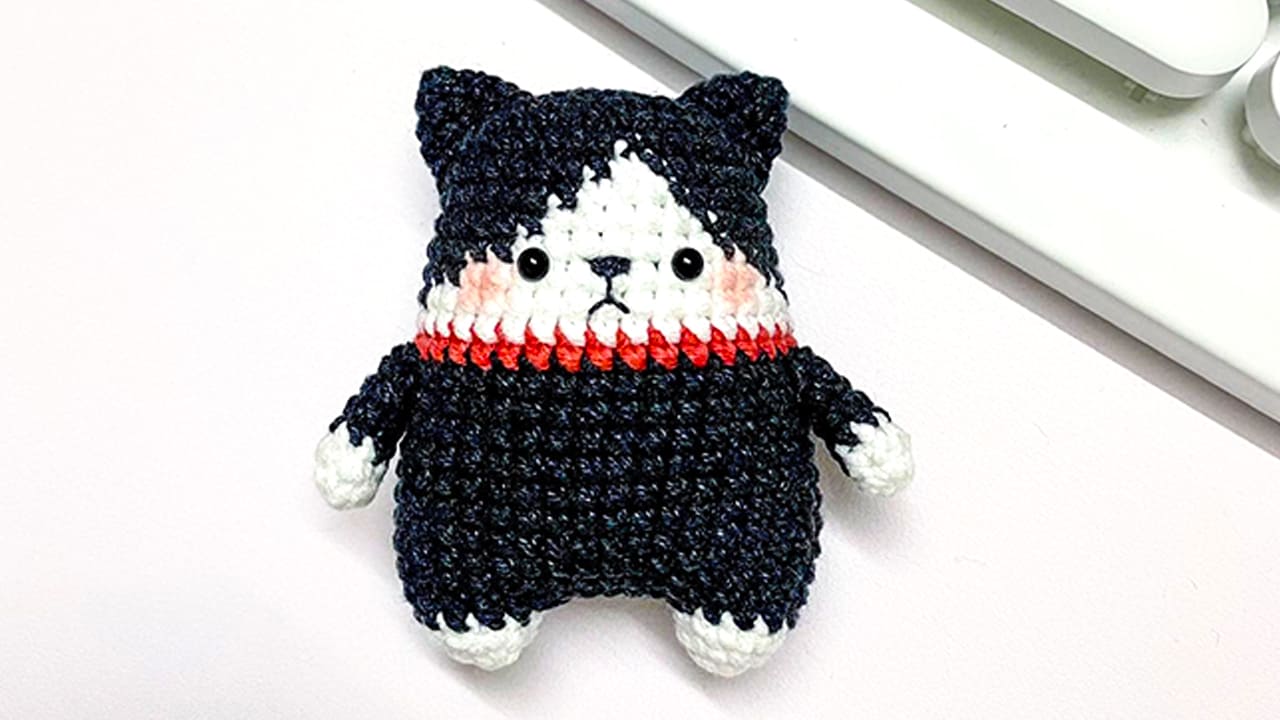 Hello everyone, I brought a crochet cat amigurumi pattern for you. First of all, I would like to thank the owner of the pattern. Thanks to the step by step detailed crochet cat amigurumi pattern instruction, you can complete the amigurumi pattern without difficulty. It is an easy amigurumi pattern for beginners. Here's a nice and easy amigurumi crochet cat pattern for this weekend. Now I invite you to the free amigurumi pattern instruction. Stay tuned for more free amigurumi patterns. Happy weekend to you all.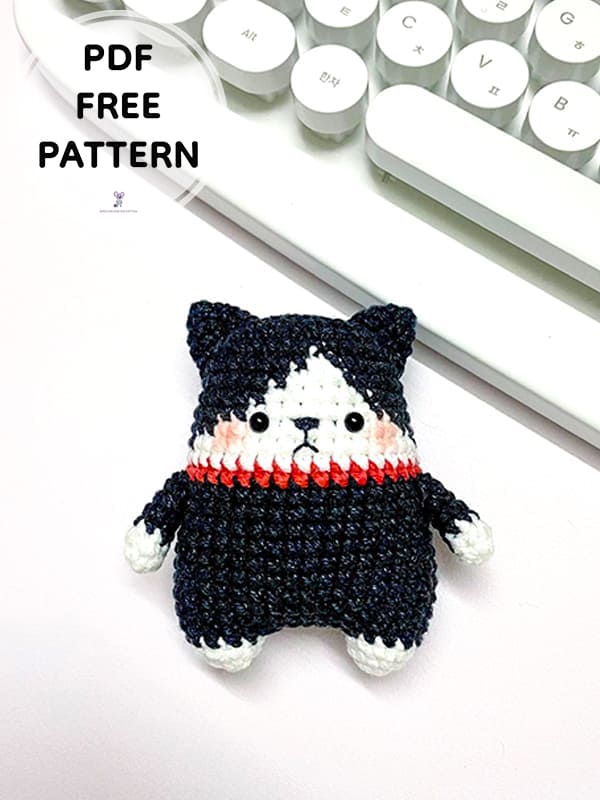 Crochet Little Cat PDF Amigurumi Free Pattern
Designer: beary_bearnita_
Materials
Yarn: sport or DK light weight yarn (I used YarnArt Jeans)
Crochet hook: 2mm- 2.5 mm
Safety eyes size 4 mm
Black embroidery thread
Fiberfill
Yarn needles
Abbreviation
MR: Magic ring
Sc: Single crochet
Hdc: Half double crochet
Dc: Double crochet
Inc: Increase
Dec: Decrease
FLO: Front loop only
Slst: Slip stitch
Legs (Make 2)
Start with white
Rnd 1. 5 sc in MR (5)
Rnd 2. 5-inc (10)
Rnd 3. 10sc (10)
Cut the yarn, crochet 2nd leg with same pattern. Do not cut the yarn. Chain 5, join in 1st leg and crochet the body.
Body
Start with black
Rnd 1. (4sc, inc) * 6 (36)
Rnd 2-11. (10 rnds) 36sc (36)
Change to red
Rnd 12. 36sc (36)
Rnd 13. (black) 6sc, (white) 19sc, (black) 11sc (36)
Rnd 14. (black) 8sc, (white) 15sc, (black) 13sc (36)
Rnd 15. (black) 10sc, (white) 11sc, (black) 15sc (36)
Insert safty eyes, 5sts apart
Rnd 16. (black) 12sc, (white) 7sc, (black) 17sc (36)
Rnd 17. (black) 13sc, (white) 5sc, (black) 18sc (36)
Rnd 18. (black) 14sc, (white) 3sc, (black) 19sc (36)
Rnd 19. (black) 15sc, (white) 1sc, (black) 20sc (36)
Rnd 20. 36sc (36)
Rnd 21. (4sc, dec) * 6 (30)
Rnd 22. (3sc, dec) * 6 (24)
Rnd 23. (2sc, dec) * 6 (18)
Rnd 24. (Sc, dec) * 6 (12)
Rnd 25. 6-dec (6)
Cut the yarn and fasten off.
Ears (Make 2)
Rnd 1. 4 sc in MR (4)
Rnd 2. 4 inc (8)
Rnd 3. (3sc,inc)*2 (10)
Rnd 4. 10 sc (10)
Cut the yarn. Fasten off.
Arm (Make 2)
Start with white.
Rnd 1. 7 sc in MR (7)
Rnd 2. 7 sc (7)
Change to black.
Rnd 3-6. (4 rnds) 7 sc (7)
Cut the yarn. Fasten off.
Download PDF Pattern