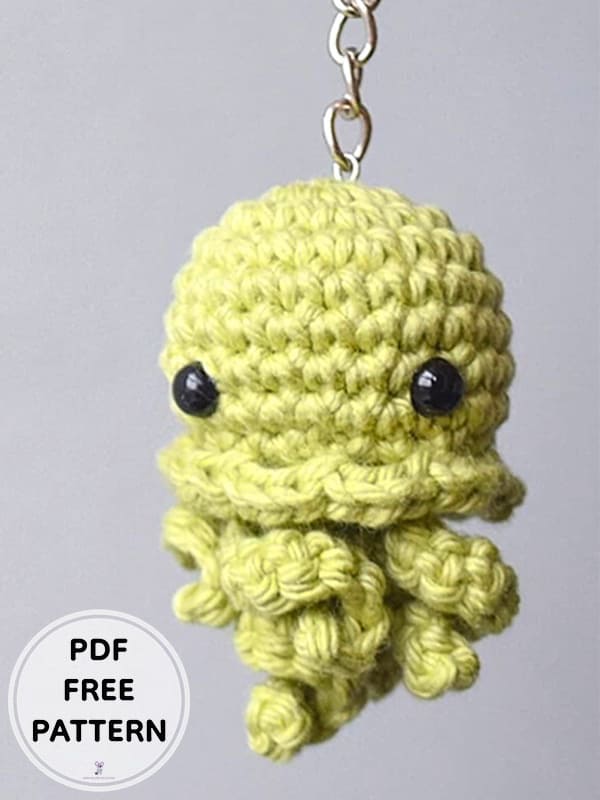 Hello everyone, I brought you a crochet jellyfish keychain pattern today. First of all, I would like to thank the owner of the pattern, it was a great crochet keychain. Thanks to the step by step detailed crochet pattern instruction, you will complete the free pattern very quickly and practically. The materials needed to make amigurumi are in the instructions. After completing the crochet jellyfish keychain amigurumi pattern, you can gift it to your loved ones. Now I invite you to the free pattern description. Stay tuned for more free amigurumi patterns.
Crochet Jellyfish Keychain PDF Amigurumi Free Pattern
Designer: mochastitch
Materials
• Cotton medium worsted weight yarn
• Size C/ 2.75 mm hook
• 6 mm safety eyes
• Keychain
• Polyester fiberfill
• Scissors
• Yarn neddle
• Paper clip (optional)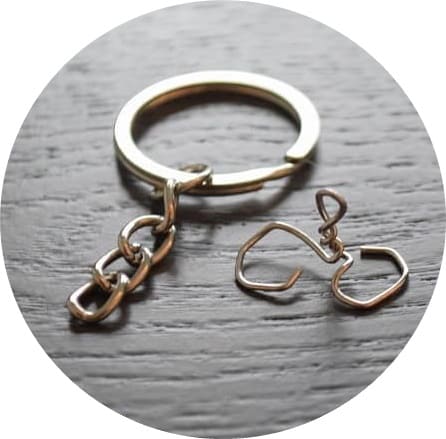 Abbreviations
Rnd- Round
Sc- Single crochet
MR- Magic ring
Slst- Slip stitch
Inc- Increase
Dec- Decrease
BLO- Back loop only
Ch- Chain
Body
Rnd 1. 6 sc in MR (6)
Rnd 2. Inc in each st around (12)
Rnd 3. (1sc,inc)*6 (18)
Rnd 4. (2sc,inc)*6 (24)
Rnd 5-8. sc in each st around (24)
Rnd 9. (2sc,dec)*6 (18)
Rnd 10. (1sc,dec)*6, in BLO (12)
Rnd 11. (dec)*6 (6)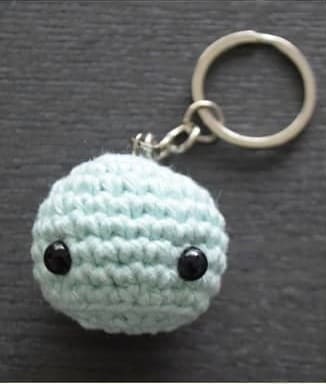 • Attach the keychain in the middle of the magic ring.
(optional- bend a paperclip and stick through the magic ring to help attach a keychain).
• Place safety eyes 6 sts apart between rnd 7 and 8.
• Stuff the body firmly.
• Sew the body closed and weave in the tail.
Skirt
1. Insert hook under a loop from the outside going in.
2. Pull up a new loop with working yarn to start and ch 1.
3. Make 3 hdc in the next st, then slst in the st after.
Repeat 9x around.
4. After the final slst, cut a yarn tail and weave it into the body.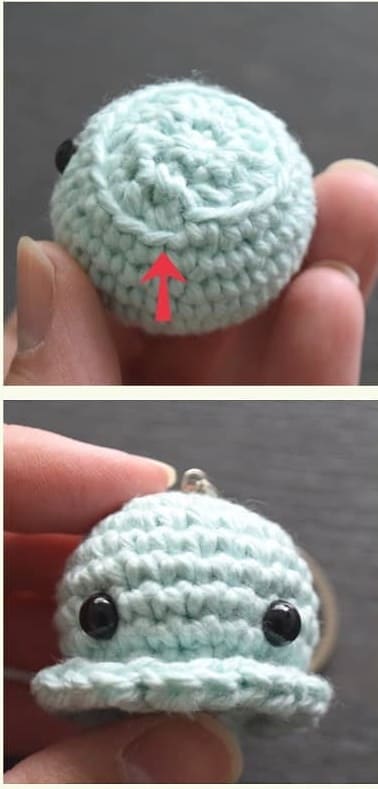 Small tentacles
1. Make a slip knot and ch 11.
2. Sc in 2nd ch from hook, 8 sc across, 2sc in final st.
• Cut a tail for sewing.
• Make 3 small tentacles.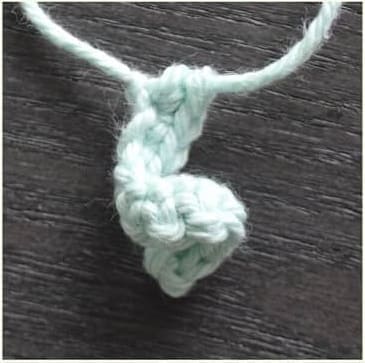 Large tentacles
1. Make a slip knot and ch 14.
2. Sc in 2nd from hook, 11 sc across, 2 sc in final st.
• Cut a tail for sewing.
• Make 2 large tentacles.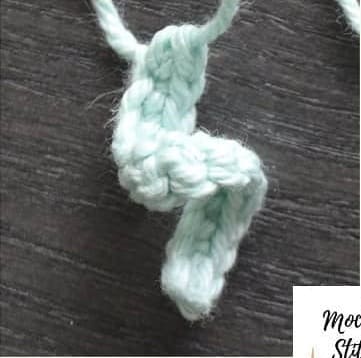 Sewing tentacles
• Here is an underside diagram of the jellyfish.
Red= small tentacles
Green= large tentacles
• The accrows show the direction the tentacles should face.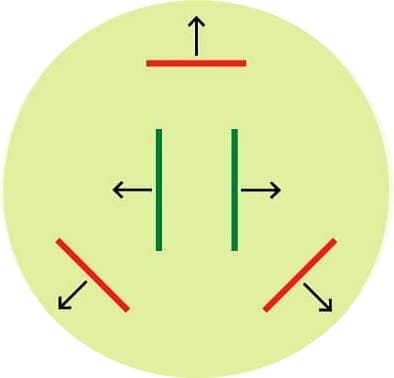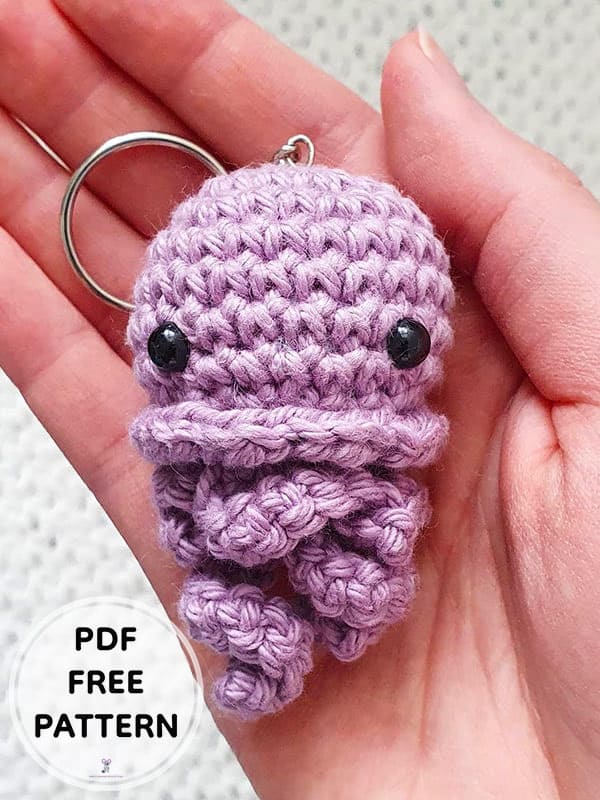 Download PDF Pattern