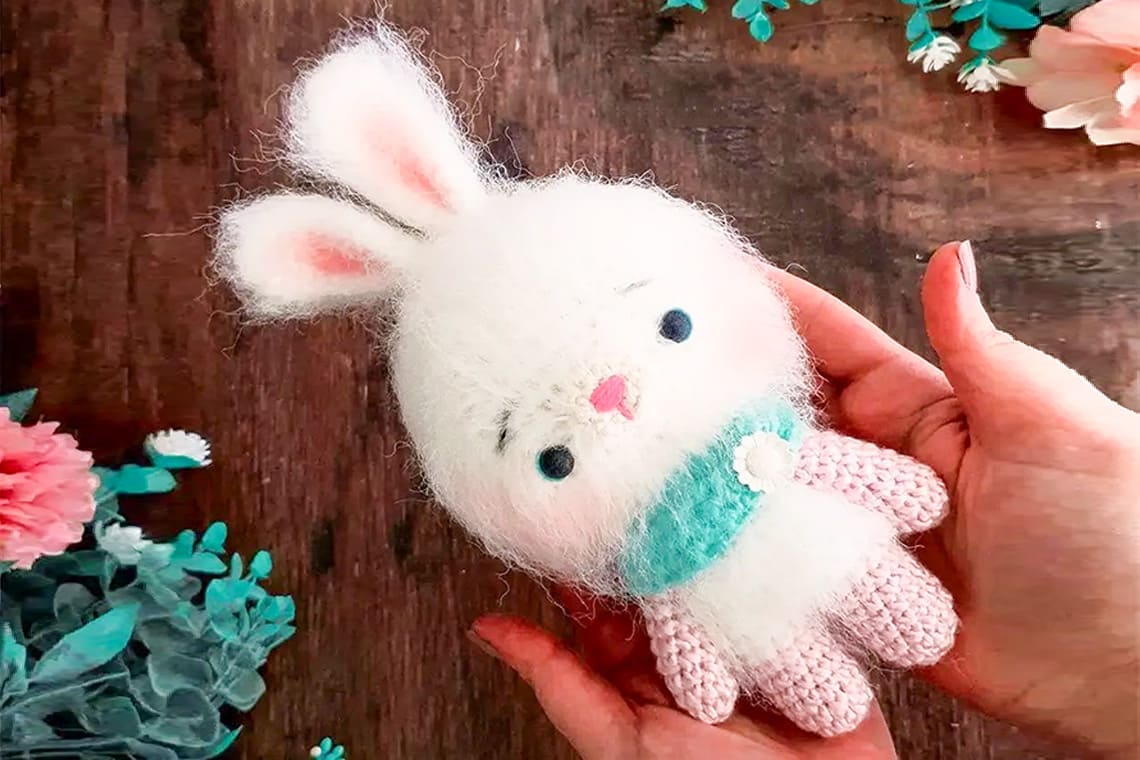 Hello everyone, today I shared the amigurumi crochet bunny pattern for you. Free amigurumi pattern crochet step by step is intermediate difficulty. Crochet thebunny head a little larger. Then crochet the scarf. We will crochet the body part together with the legs. After completing the arms and ears, our amigurumi crochet bunny pattern will be ready. You can use a metal brush to make the hairs on the head. You can create playmates for children by making the cute crochet pattern bunny in different colors. Thank you to the creator of the free amigurumi patterns bunny. Don't forget to add it to your favorite list and share it with your loved ones.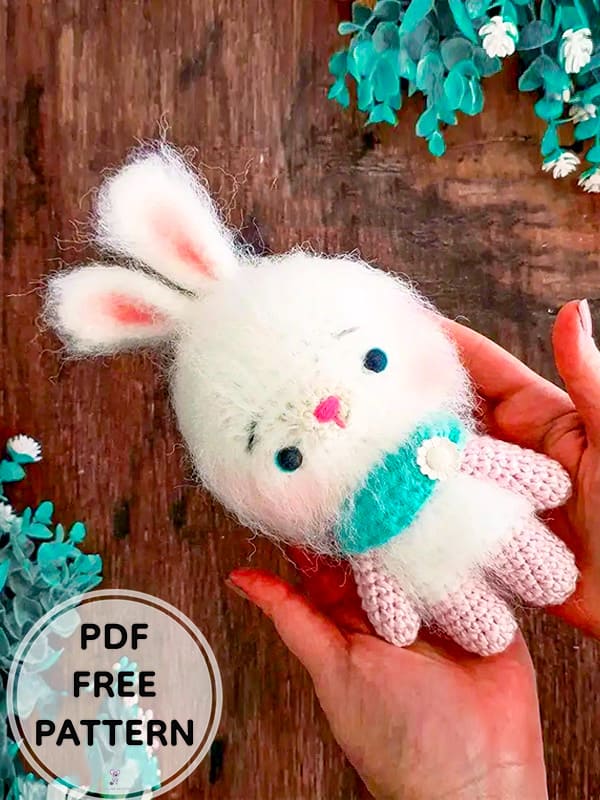 Crochet Bunny Lee Free Amigurumi Patterns PDF
Designer: vivir_vintage
Materials
3,75 gauge white acrylic yarn
3,75 gauge light green acrylic yarn
Natural silky acrylic with cotton yarn
Light pink silky acrylic with cotton yarn
3 strand black cotton yarn
6 strand acqua cotton yarn
6 strand pink cotton yarn
Fiberfill stuffing
10mm safety eyes
15mm button
Scissors
3,5/ 4,0mm crochet hook
Stitch marker
Abbreviations
MR- magic ring
sc- single crochet
inc- increase
dec- decrease
ch- chain
slst- slip stitch
rep. – repeat
Let's start crocheting an amigurumi toy 🙂
Snout
Cotton with silky acrylic- Butter
Rnd 1. 6sc in MR (6)
Rnd 2. inc rep. 6 times (12)
Fasten off and leave thread for sewing.
Tail
White acrylic yarn
Rnd 1. 8sc in MR (8)
Rnd 2. inc rep. 8 times (16)
Rnd 3-4. sc in all 16 stitches (16)
Stuff with a little bit of fiberfill
Rnd 5. dec rep. 4 times (4)
Fasten off and leave thread for sewing
Ears (x2)
White acrylic yarn
Rnd 1. 6sc in MR (6)
Rnd 2. inc rep. 6 times (12)
Rnd 3-12. sc in all 12 stitches (12)
Fasten off and leave thread for sewing
Arms (x2)
Natural silky acrylic with cotton yarn
Rnd 1. 8sc in MR
Rnd 2-10. sc in all 8 stitches (8)
Fasten off and leave thread for sewing.
Stuff with fiberfill
Let's crochet scarf for bunny amigurumi pattern 🙂
Scarf
Light green acrylic yarn
Crochet scraf in rows not in rounds
Rnd 1. chain 4 (4)
Rnd 2-46. from the 3rd chain from hook crochet 3sc, chain 1, turn (3)
In next row you will crochet buttonhole
Rnd 47. Chain 4, slst in the opposite side.
Fasten off and hide all threads.
Sew buttom in assembly
Legs (x2)
Light pink silky acrylic with cotton yarn
Rnd 1. 6sc in MR (6)
Rnd 2. inc rep. 6 times (12)
Rnd 3-7. sc in all 12 stitches (12)
Stuff with fiberfill
Fasten off and hide thread
Repeat this pattern one more time and next you will join both legs and continue crocheting body
After completing the legs, let's crochet the body part
Body
White acrylic yarn
Rnd 8. Crochet 12sc of one leg and then 12sc of the other leg (24)
Rnd 9-14. sc in all 24 stitches (24)
Rnd 15. 2sc, dec rep. 6 times (18)
Rnd 16-17. sc in all 18 stitches (18)
Stuff with fiberfill
Continue crocheting head
Let's crochet the head part of the amigurumi bunny. You can use a wire brush for a hairy look. 🙂
Head
White acrylic yarn
Rnd 18. 2sc, inc rep. 6 times (24)
Rnd 19. 3sc, inc rep. 6 times (30)
Rnd 20. 4sc, inc rep. 6 times (36)
Rnd 21. 5sc, inc rep. 6 times (42)
Rnd 22-31. sc in all 42 stitches (42)
Place safety eyes between rounds 23 and 24 leaving 7 stitches apart.
Sew snout between eyes
Stuff with fiberfill
Rnd 32. 5sc, dec rep. 6 times (36)
Rnd 33. 4sc, dec rep. 6 times (30)
Rnd 34. 3sc, dec rep. 6 times (24)
Rnd 35. 2sc, dec rep. 6 times (18)
Rnd 36. sc, dec rep. 6 times (12)
Stuff with fiberfill
Rnd 37. dec rep. 6 times (6)
Close last 6 stitches and hide thread
Assembly
Before sewing I recommend you male furry amigurumi. To do so you need a brush with metal bristles. You can find them in hardware stores or pet shops
Thank you for visiting our website amigurumireceitas.com.
Sew arms on each side of the body just below the head
Sew snout between rouns 2 and 3 of head
Sew button on the opposite end of the scarf. Then wrap it 2 times through the scarf. Then wrap it 2 times through the bunny neck and pass the button through the buttonhole.
With 3 strand black cotton yarn embroider eyebrows
With 6 strand turquoise cotton yarn embroider the light of the eyes
With 6 strand pink cotton yarn embroider nose
Optional: blush cheeks
Congratulations, you have completed the amigurumi bunny 🙂
Download PDF Pattern