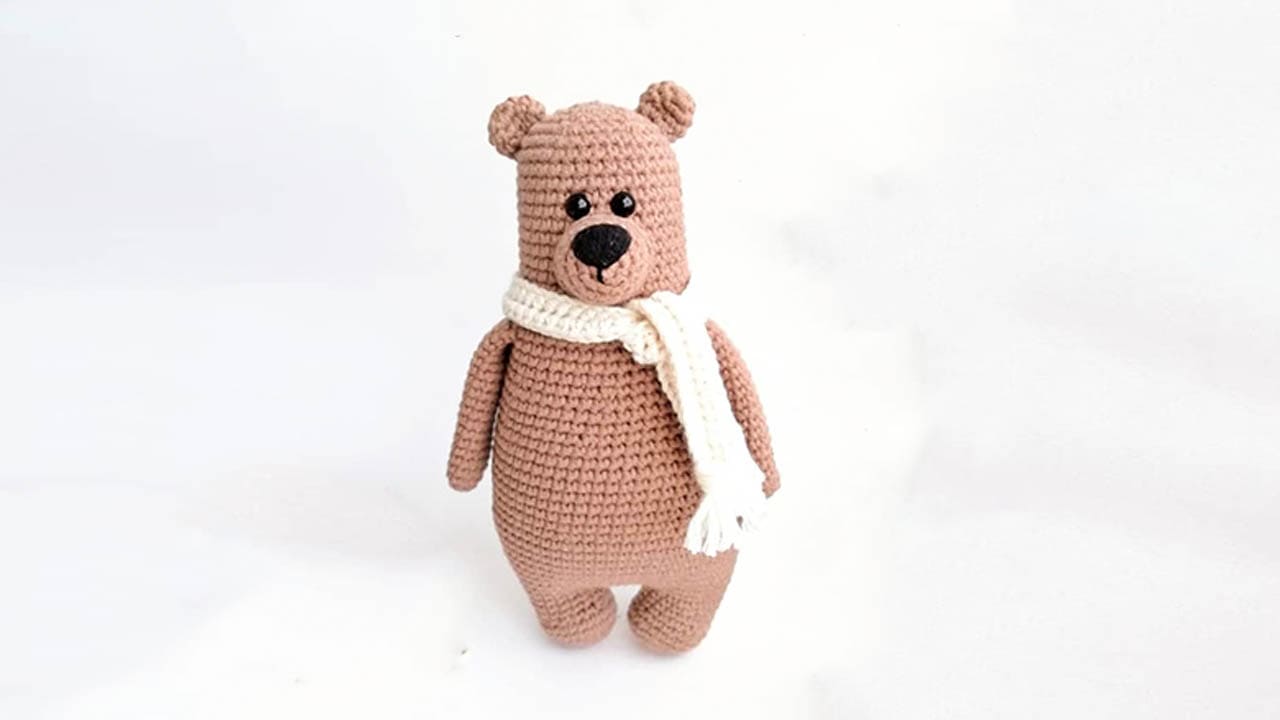 Hello all friends,
Today I bring you a crochet bear amigurumi toy pattern. First of all, I would like to thank the owner of the pattern for this cute crochet bear toy. It is a toy amigurumi bear pattern that you will prepare for your children with your own hands. Thanks to the step by step crochet pattern instructions, you will quickly complete this teddy bear. Pattern difficulty is the easy level. After the crochet teddy bear is complete, you can design a scarf around the neck, or a crochet hat and accessories yourself, like a designer. Your kids will love this cute crochet teddy bear amigurumi toy. Don't forget to follow us for more free amigurumi patterns.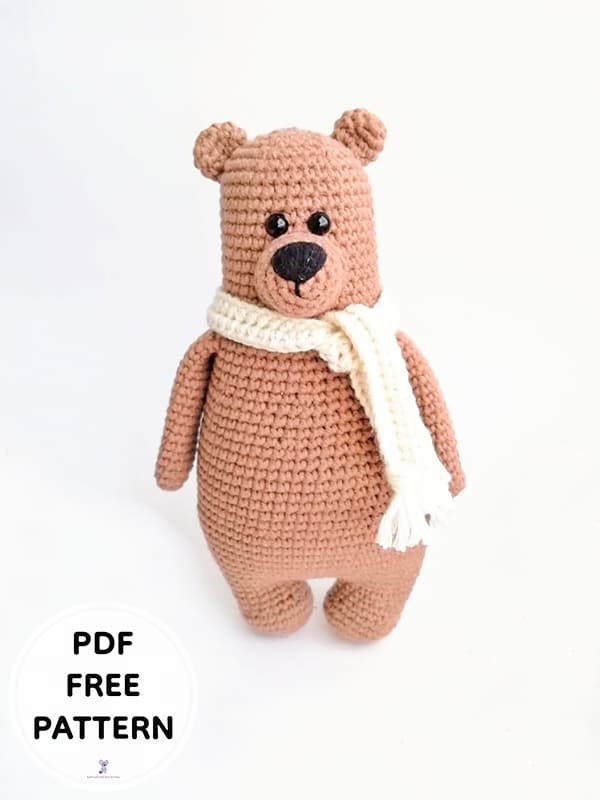 Crochet Bear PDF Amigurumi Free Pattern
Designer: babymobile_
Materials
• Hook Clover 2.25mm;
• Yarnart Jeans 71 (cocoa);
• Safety eyelets 6mm;
• Holofiber, a needle with a wide eye for sewing on details.
• The height of the toy is 16cm.
Abbreviations
MR– Magic ring
Ch– Chain
Sc– Single crochet
Inc– Increase
Dec– Decrease
Arms (Make 2)
Rnd 1. 6 sc in MR
Rnd 2. 6-inc (12)
Rnd 3-19. 12 sc (7rnds)
Ears
Rnd 1. 6 sc in MR
Rnd 2. 6-inc (12)
Rnd 3. (2sc,dec)*3 (9)
Sew in half.
Muzzle
Rnd 1. 6 sc in MR
Rnd 2. 6-inc (12)
Rnd 3. (1sc,inc) (18)
Rnd 4-6. 18 sc (3rnds)
Embroider nose with black thread.
Legs (Make 2)
Rnd 1. 6 sc in MR
Rnd 2. 6-inc (12)
Rnd 3. (1inc)*6 (18)
Rnd 4. (2inc)*6 (24)
Rnd 5-6. 24 sc
Rnd 7. (2sc,dec)*6 (18)
Rnd 8-10. 18 sc
At the first leg, cut the thread, hide. At the second leg, do not cut the thread, continue crocheting, connecting with the first.
Body
We continue crocheting the second leg, dial 5ch, connect with the first leg:
Rnd 1. 5ch+ 18sc+ 5ch+ 18sc (46)
Rnd 2. (22inc)*2 (48)
Rnd 3. (7sc,inc)*6 (54)
Rnd 4-5. 54 sc
Rnd 6. (8sc,inc)*6 (60)
Rnd 7-12. 60 sc (6rnds)
Rnd 13. (8sc,dec)*6 (54)
Rnd 14-21. 54 sc (8rnds)
Rnd 22. (7sc,dec)*6 (48)
Rnd 23-25. 48 sc (3rnds)
Rnd 26. (6sc,dec)*6 (42)
Rnd 27-28. 42 sc
Rnd 29-30. crochet the handles on the sides (29 row for the inner 6 loops of the handle, 3 row for the outer 6 loops of the handle);
Rnd 31. (5sc,dec)*6 (36)
Rnd 32-45. 36 sc (14rnds)
Insert eyes between 41 and 42 rows at a distance of 2-3 rows between the eyes;
Rnd 46. (4sc,dec)*6 (30)
Rnd 47. (3sc,dec)*6 (24)
Rnd 48. (2sc,dec)*6 (18)
Rnd 49. (1sc,dec)*6 (12)
Rnd 50. 6-dec (6)
Pull the hole, hide the tip of the thread.
The bear is ready!
Download PDF Pattern