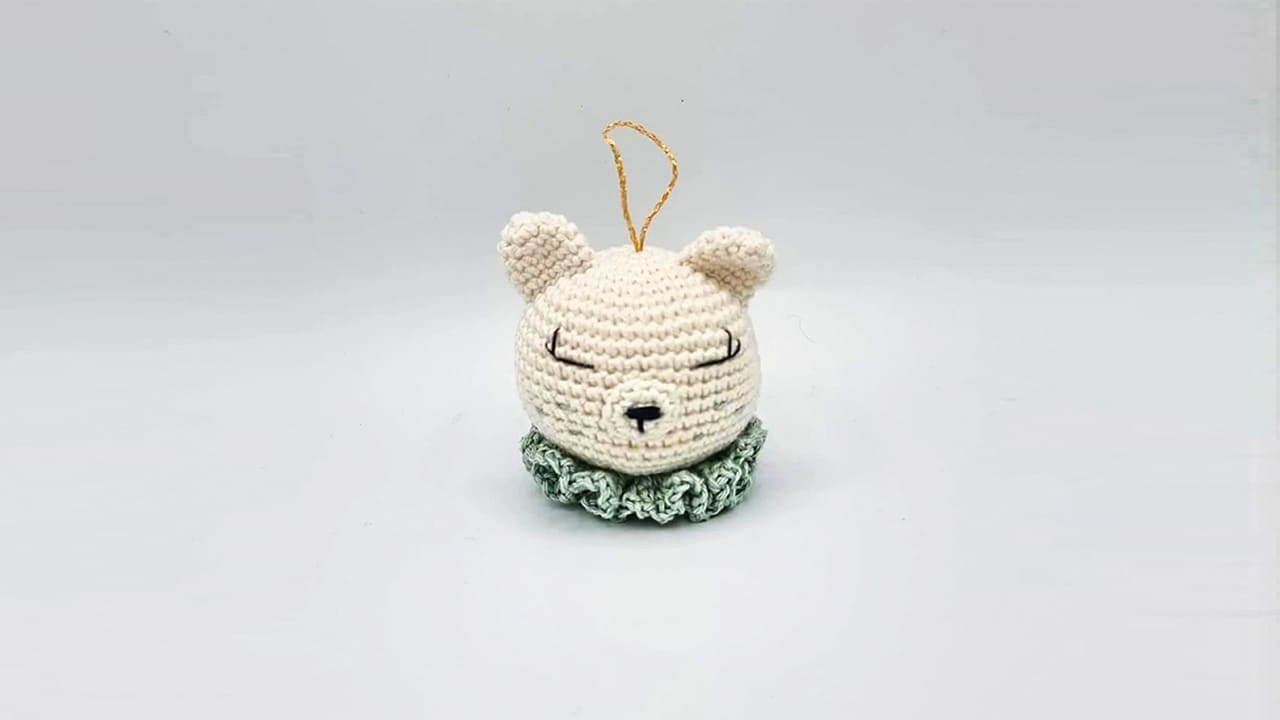 Hello, today we will deal with the topic of Christmas decorations. First of all, I would like to thank the owner of the pattern. Today's Christmas ornament is the bear bauble. Thanks to the easy and short step by step amigurumi pattern instruction, you can contribute to the decoration of your Christmas tree with your own hands. It is an easy amigurumi pattern for beginners. You can complete the cute amigurumi bear pattern right now and use it on your Christmas tree or gift it to your loved ones. Merry Christmas to you all in advance!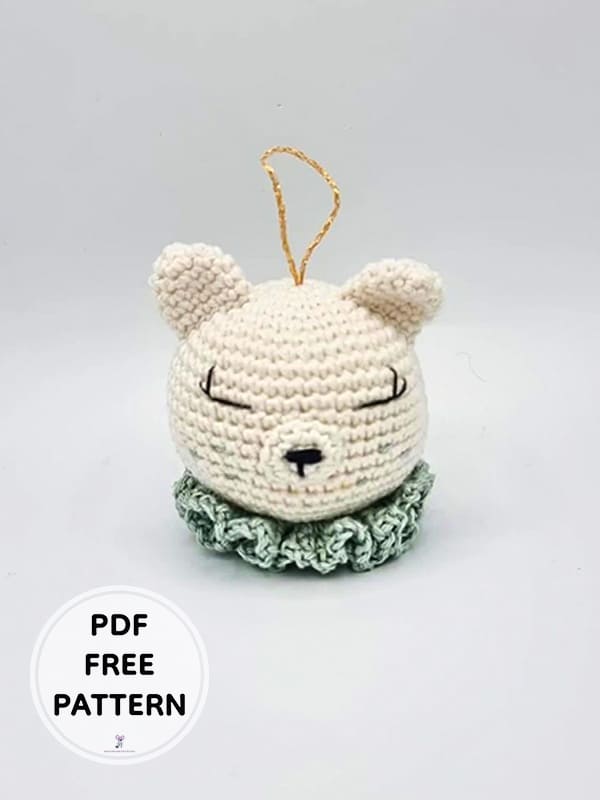 Christmas Bear Bauble Ornament Amigurumi Free PDF Pattern
Designer: les.mailles.du.rocher
Abbreviations
MR: Magic ring
Sc: Single crochet
St(s): Stitch/es
Inc: Increase
Dec: Decrease
Hdc: Half double crochet
Slst: Slip stitch
Rnd: Round
Stuff as you go along your work.
Rnd 1. 6 sc in MR [6]
Rnd 2. (inc)* [12]
Rnd 3. (1sc,inc)* [18]
Rnd 4. (2sc,inc)* [24]
Rnd 5. (3sc,inc)* [30]
Rnd 6. (2sc,inc,2sc)* [36]
Rnd 7. (5sc,inc)* [42]
Rnd 8. (3sc,inc,3sc)* [48]
Rnd 9-17. 48 sc [48]
Rnd 18. (3sc,dec,3sc)* [42]
Rnd 19. (5sc,dec)* [36]
Before stuffing, add the hanging string of gold yarn at the top of the bauble, making some knots to secure.
Rnd 20. (2sc,dec,2sc)* [30]
Rnd 21. in BLO (3sc,dec)* [24]
Rnd 22. (2sc,dec)* [18]
Rnd 23. (1sc,dec)* [12]
Rnd 24. (dec)* [6]
Fasten off.
Collar
Take green yarn in FLO of rnd 20.
Rnd 1. (3 hdc in same stitch)*30 [90]
Join the round by making a slst in the first hdc of rnd 1.
Rnd 2. (ch 2, 1 hdc in next stitch)*90
Ears (Make 2)
Rnd 1. MR, 6 sc [6]
Rnd 2. (1sc,inc)* [9]
Rnd 3. (2sc,inc)* [12]
Rnd 4-6. 12 sc [12]
Fasten off. Leave a long tail for sewing.
Nose
Rnd 1. MR, 6 sc [6]
Rnd 2. (inc)* [12]
Fasten off. Leave a tail for sewing.
Emberoider the muzzle with black thread.
The cute amigurumi bear bauble is ready!
Download PDF Pattern