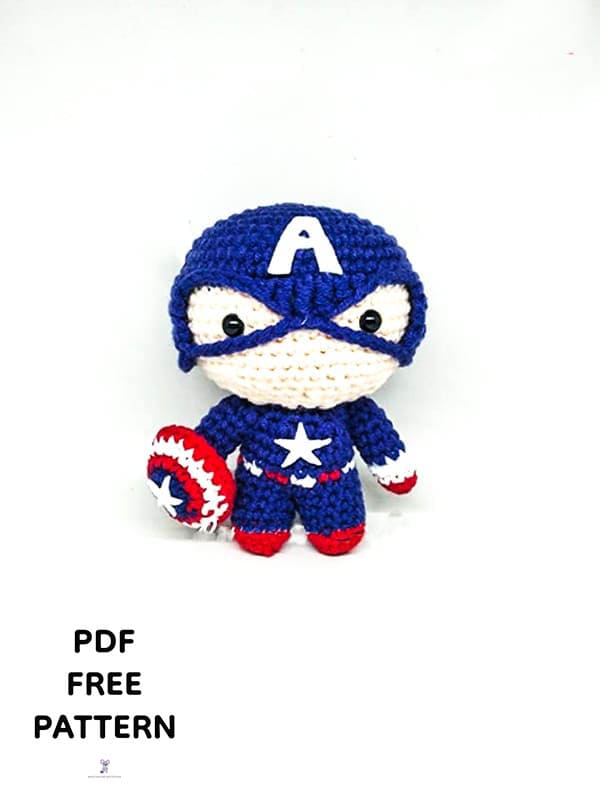 Greetings friends, today I brought the captain america crochet doll character amigurumi toy that children and adults love. First of all, I would like to thank the owner of the pattern. Captain America is a fictional character appearing in American comic books published by Marvel Comics. Thank you for visiting our website amigurumireceitas.com. The size of the crocheted amigurumi toy will be 4 cm. Follow the step by step detailed amigurumi pattern instructions to complete your favorite hero and gift it to your loved ones. You can continue to follow us for more free amigurumi patterns.
Captain America Crochet Doll Amigurumi PDF Free Pattern
Designer: primeivoncraft
Materials
Using milk cotton yarn.
Blue no: 28, white no: 19, red no: 10, beige no: 51.
Crochet hook size: 4 mm
Height: 14 cm.
Abbreviations
MR: Magic ring
Ch: Chain
Sc: Single crochet
Dc: Double crochet
Hdc: Half double crochet
Slst: Slip stitch
Inc: Increase
Dec: Decrease
Trx– treble cross
BLO: Back loop only
FLO: Front loop only
Head
Rnd 1. Blue no: 28, MR 6 (6)
Rnd 2. 6 inc (12)
Rnd 3. (sc,inc)*6 (18)
Rnd 4. (2sc,inc)*6 (24)
Rnd 5. (3sc,inc)*6 (30)
Rnd 6. (4sc,inc)*6 (36)
Rnd 7. (5sc,inc)*6 (42)
Rnd 8. (6sc,inc)*6 (48)
Rnd 9-10. 48 sc (48)
Rnd 11. Beige no: 51, BLO: 48 sc (48)
Rnd 12-16. 48 sc (48)
Rnd 17. (6sc,dec)*6 (42)
Rnd 18. (5sc,dec)*6 (36)
Rnd 19. (4sc,dec)*6 (30)
Rnd 20. (3sc,dec)*6 (24)
Rnd 21. (2sc,dec)*6 (18)
From the BLO continue with
Rnd 12. Blue no: 28, 16 sc, 5 slst, hdc, dc, trx2, dc, hdc, 16 sc
Rnd 13-16. 32 sc
Rnd 17. 32 sc, 8 ch, 2 slst, 8 ch
Rnd 18. dec, 28sc, dec
Wings in head
Rnd 1. White no: 19, ch 5, slst, 3 sc (4)
Weapon
Rnd 1. Blue no: 28, MR 6 (6)
Rnd 2. 6 inc (12)
Rnd 3. red no: 10, (sc,inc)*6 (18)
Rnd 4. white no: 19, (5sc,inc)*3 (21)
Rnd 5. red no: 10, 21 sc (21)
Legs and body
Rnd 1. Red no: 10, MR 6 (6)
Rnd 2. 6 inc (12)
Rnd 3. 12 sc (12)
Rnd 4-7. Blue no: 28, 12 sc (12)
Make 2 legs and join using slst 1 st
Rnd 8. 22 sc (22)
Rnd 9. (10 sc,inc)*2 (24)
Rnd 10. (Red no: 10, 2sc, white no: 19, 2sc)*6 (24)
Rnd 11. Blue no: 28, (6sc,dec)*3 (21)
Rnd 12. (5sc,dec)*3 (18)
Rnd 13. 18 sc (18)
Hands
Rnd 1. Red no: 10, MR 6 (6)
Rnd 2. (2sc,inc)*2 (8)
Rnd 3-4. White no: 19, 8 sc (8)
Rnd 5-7. Blue no: 28, 8 sc (8)
Download PDF Pattern